« Back to News
Research and Energy Adventures at the EV + Hydrogen Expo
Posted on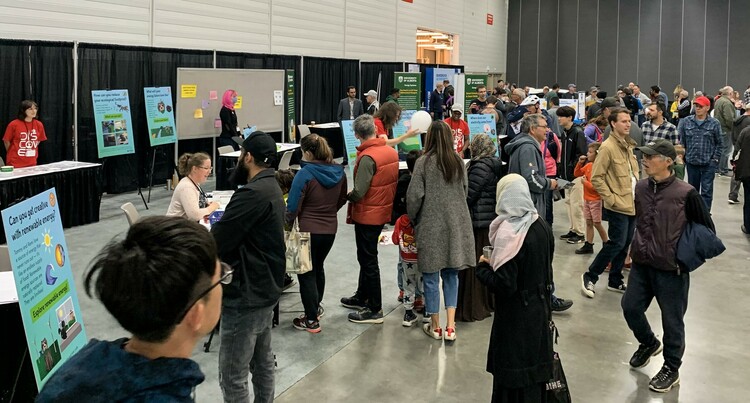 Future Energy Systems students and researchers were special guests this weekend at the City of Edmonton's first-ever EV + Hydrogen Expo. Attended by more than 5,000 people, the two-day public event showcased the latest developments in electric and hydrogen vehicles, giving people the chance to test drive cars, e-bikes and e-scooters at the Edmonton Expo Centre. 
Alongside the test drives, numerous exhibitors shared information about renewable energy initiatives in the area, and Future Energy Systems researchers introduced their latest work to attendees. Professors Omid Ardakanian, Ryan Li, Petr Musilek, Pierre Mertiny, Marc Secanell, and members of their labs were represented throughout the weekend, detailing work related to electric and hydrogen vehicles, as well as important infrastructure questions related to mass charging of vehicles. 
Adjacent to the research showcase, Future Energy Systems also hosted the Expo's Family Zone, with a series of activities for kids available throughout the weekend. Following the characters from the FES children's book series, The Energy Adventures of Tommy and Remy, children built electrical circuits, witnessed the power of electrons through static electricity demonstrations, built windmills and stained glass windows, built their own sustainability puzzles, and drew more than 100 imagined energy futures, which were posted on the booth's mosaic board. The UofA EcoCar team also joined in, helping kids explore potential new designs for cars of the future.
Participation in the EV + Hydrogen Expo kicks off Energy Week 2022 at the University of Alberta, which includes a series of public events including the Future Energy Systems Research Symposium, an all new infographic competition hosted on Twitter, an Energy Talk in partnership with the Edmonton Public Library, and lab tours.
Subscribe to the FES Newsletter to keep up to date with the latest opportunities to engage with researchers and students working on the cutting edge of the energy transition!
EV + Hydrogen Expo 2022