Our Team
Click here to view a Future Energy Systems organizational chart.
M. Anne Naeth, PhD, PAg, PBiol, FSTLHE, FCSSS
Director
Anne Naeth is a Professor of land reclamation and restoration ecology in the Department of Renewable Resources, and recently served as Associate Dean Research and Graduate Studies in the Faculty of Agricultural, Life and Environmental Sciences. Since 2011 she has been Director of the Land Reclamation International Graduate School, established with the first University of Alberta NSERC CREATE grant. Since 2017 she has co-led the Future Energy Systems Land and Water theme.
In 2018 Anne was named Director of Future Energy Systems. In this role, she is responsible for overseeing all strategic and administrative operations, and guiding the development of research partnerships with other research organizations, industry, and government, locally, in Canada, and internationally. She works closely with researchers and university administrators to ensure the program meets the requirements of the Canada First Research Excellence Fund, while delivering meaningful research outcomes and valuable opportunities for faculty, graduate students, post-doctoral fellows, and other highly qualified personnel.
In 2019, Anne was named Director of the University of Alberta Energy Systems Signature Area of teaching and research. In this capacity she ensures continuity of the Future Energy Systems research community, leverages institutional relationships to develop meaningful research partnerships, and develops new energy systems teaching and learning programs.
Anne completed her BSc, MSc, and PhD at the University of Alberta, and was the first student at the institution to complete a graduate degree in the field of land reclamation. She joined the Department of Renewable Resources in 1993.
Contact Anne at anaeth@ualberta.ca.
Administration
Responsible for administrative processes and protocols, annual reporting, oversight of the FORUM project management system, and compliance with Canada First Research Excellence Fund regulations. Contact the team at fes@ualberta.ca.
Samuel Ferraz, MSc, EIT
Program Manager
Samuel Ferraz completed his BSc in mechanical engineering at Simón Bolívar University in Venezuela, and his MSc in project management for environmental and energy engineering at the Institut Mines-Télécom Atlantique in France. He joined Future Energy Systems in February 2018, initially working on international partnerships, then transitioned to the communications team before taking up his current role.
As Program Coordinator, Sam oversees FES operations and executes the strategic vision of the Director. He ensures all FES administrative requirements are met, manages program logistics, coordinates the FORUM project management system to ensure accurate reporting, and supports relationships with key stakeholder groups including CFREF central administration, the University of Calgary CFREF program (GRI), and internal governance bodies.
Chimedlkham Enkhbayar, MA
Administration Assistant
Chimedlkham completed her BSc in geology at the Mongolian University of Science and Technology. She worked as a data geologist in Cameco Mongolia, then in Khuder-Erdene mining project before she came to Alberta to pursue her studies in MA in human geography at the University of Alberta. Upon completion of her graduate program in March 2020, she joined Future Energy Systems.
Chimed assists the Program Coordinator with FES daily operations, and management of the FORUM data management system. She also provides administrative support to the FES team.
Communications
Manages the FES website, writes stories about FES researchers, provides tours of FES facilities, and manages events that connect research with industry, government, and the general public. Responsible for providing professional development training for FES research personnel. Contact the team at fescom@ualberta.ca.
Kenneth Tam, MA
Assistant Director
Kenneth Tam joined FES as Communications Associate in 2017, and was appointed Communications Manager in 2019. He originally came to the University of Alberta in 2014 to serve as Communications Coordinator for the Alberta Land Institute. His past experience includes service as Communications Consultant for Kitchener–Waterloo Member of Parliament Peter Braid, and as a Balsillie Fellow at the Centre for International Governance Innovation, working for Canada's former Ambassador and Permanent Representative to the United Nations, Paul Heinbecker. Hailing from Newfoundland, he holds a Masters degree in history and is a novelist with extensive and award-winning experience in the Canadian publishing industry.
As Communications Manager, Kenneth provides strategic counsel, liaises with other University of Alberta units, leads event organization, handles media relations, provides communication training, writes stories about FES research, and oversees all other communications and outreach activities. He supervises the Research Communications Coordinator, Outreach and Engagement Coordinator, and Multimedia Content Producer.
Valerie Miller, PhD
Outreach and Engagement Coordinator
Valerie Miller completed her PhD in land reclamation at the University of Alberta in 2019, working at a diamond mine in northern Canada to build soils using mine waste. During her PhD program she was a teaching assistant, primary instructor and community volunteer coordinator, and a volunteer with various science outreach organizations including Telus World of Science, Nature Kids, Let's Talk Science, and Alberta Envirothon. She was a founding member of the Future Energy Systems Peers in Research Communication (PIRC) group.
As Outreach and Engagement Coordinator, Valerie supports and mobilizes FES personnel seeking to share research with external audiences through opportunities such as lab tours, speaking engagements, and major events both on and off campus. She is also the author of The Energy Adventures of Tommy and Remi series.
Kaitlin Pylypa
Multimedia Content Producer
Kaitlin holds a Bachelor of Fine Arts degree from the Nova Scotia College of Art and Design University, and is an experienced professional artist with a specialization in architectural subjects. She is also a graphic designer with specific training in illustration, photography, and video production. She joined the Future Energy Systems communications team in 2021.
As Multimedia Content Producer, Kaitlin develops and and distributes of FES video and online outreach materials, and creates communications assets such as infographics to help make advanced FES research more accessible to stakeholders, government, and members of the public. She also illustrates The Energy Adventures of Tommy and Remi series.
Elyse Dzenick
Research Communications Coordinator
Elyse Dzenick received her bachelors in communications from MacEwan University. She is an experienced communicator, having spent time in the agency and nonprofit worlds. Her experience in performing arts, public relations and economic development lend a unique perspective to her communications work and related projects. She joined FES in December 2022.
As Research Communications Coordinator, Elyse supports all communications efforts and initiatives, from liaising and events to writing and editing FES research stories.
Finance
Oversees all financial matters for FES, including oversight of research project budgets and individual research expenses. The team is responsible for budget modelling, expenditure testing, and providing strategic advice related to all financial matters. Contact the team at fesfin@ualberta.ca.
Janet Leung
Research Financial Administrator
Janet Leung completed her Bachelor of Science and a Bachelor of Communication at the University of Alberta. Prior to beginning work at the University of Alberta in 2013, she was employed in both the oil and gas and investment banking sectors in Calgary. She joined the Future Energy Systems team in 2022.
Research
Provides technical and strategic research advice to the FES Director and the senior administration team members.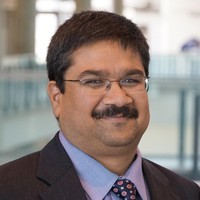 Amit Kumar, PhD, PEng
Deputy Director
Since September 2012 Amit Kumar has held the NSERC/Cenovus/Alberta Innovates Associate Industrial Research Chair in Energy and Environmental Systems Engineering. He is the Cenovus Energy Endowed Chair in Environmental Engineering in the Department of Mechanical Engineering at the University of Alberta. His research group works on integrated energy and environmental modeling, life cycle assessment, and techno-economic assessment of conventional and non-conventional energy systems.
Amit received his BSc in energy engineering from the Indian Institute of Technology, Kharagpur, India, and his MSc in energy technology from the Asian Institute of Technology. He completed his PhD at the University of Alberta in 2004 and rejoined the university after completing his Post-Doctoral Fellowship at the University of British Columbia. He has served as Deputy Director with Future Energy Systems since 2017. In this capacity he works closely with the FES Director on strategic research and outreach goals.