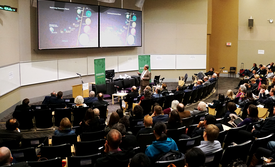 Future Energy Systems organizes and sponsors a variety of conferences every year, featuring both its own researchers and experts from across Canada and around the world.
2021 events:
Monday, September 20 - Friday, September 24, 2021
Part of the 2021 Energy Week, celebrating excellence in energy research across the UofA campus.
Featuring presentations, pitches, and posters from Future Energy Systems students and post-doctoral fellows, this event showcases research and provides unique interdisciplinary networking opportunities for all participants.
2020 events:
Monday, November 23 - Friday, November 27, 2020
In accordance with pandemic-related safety concerns, the 2020 Future Energy Systems Research Symposium is moving online to showcase program research through Twitter Posters!
This will be a unique opportunity for FES personnel to showcase their work on a global digital stage, and to forge unique connections between advanced University of Alberta researchers and stakeholders from government and industry, as well as members of the general public.
2019 events:
Monday, May 6, 2019 (8:30 AM - 4:30 PM, Telus Centre) 
Researchers from across the Future Energy Systems program provided updates about their research themes and shared perspectives on the technical, social, environmental, and economic aspects of energy transition.
Tuesday, May 7, 2019 (8:30 AM - 5:45 PM, Telus Centre)
This event will highlight research through presentations, pitches, and posters from students and post-doctoral fellows from across the Future Energy Systems program. As part of UAlberta Energy Week, the event is open to public registration, and spaces are limited.
2018 events:
Monday, November 5, 2018 (10:00 AM - 3:15 PM, Embassy of Canada in Berlin)

The Berlin Science Week is an international gathering, bringing together people from the world's most innovative scientific institutions in Berlin. It is dedicated to the dialogue between science and society to inspire a deeper understanding of our world. In partnership with the Canadian Embassy in Berlin, Future Energy Systems hosted a special event exploring the future of energy in Canada and around the world, showcasing some of our leading research in solar, geothermal, bioenergy, land and water reclamation and system-wide assessments of energy.
Wednesday, March 14, 2018 (8:30 AM - 6:00 PM, Donadeo Innovation Centre for Engineering)
This inaugural research symposium featured presentations, pitches and posters from across all our research themes, providing opportunities to break conventional barriers and seek innovative solutions for humanity's energy future.
2017 events:
November 16-17, 2017 (Peter Lougheed Hall)
The European Union Centre of Excellence at the University of Alberta hosted this conference in partnership with the German Consulate in Vancouver, the University's Vice-President (Research) Office, the Kule Institute for Advanced Study, and Future Energy Systems, bringing together Canadian and German experts to discuss these questions.
In celebration of Canada's 150th anniversary, the German Embassy partnered with Future Energy Systems at the University of Alberta to host a special conference examining the future of energy.
This event brought together leading researchers, government representatives, and industry stakeholders from Canada and Germany to address a series of topics related to the future of energy technology, and the current state of energy research.