A Public Lecture Series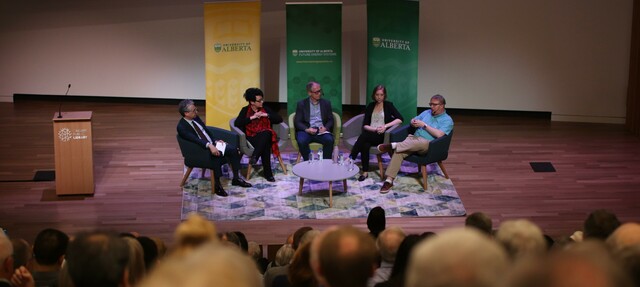 Energy Talks is a speaker series featuring groundbreaking research presented by experts from the University of Alberta's Future Energy Systems research initiative and Energy Systems Signature Area. Energy Talks lectures can be delivered in numerous venues across Canada, in partnership with local host organizations.
If you are interested in hosting an Energy Talks lecture, please contact fescom@ualberta.ca indicating your organization, preferred topic(s), proposed date, and audience. Please note that due to research and teaching obligations, our research group may not be able to accommodate all requests.
Upcoming Dates
What We Can Learn From Alberta's Changing Oil And Gas Industry's Organizing Principles (July 28, 2021) 
Over the course of the last few decades, Alberta's oil and gas industry has been challenged to address rising concerns about environmental liabilities. This Energy Talk will share a process based understanding of this transformation, acquired through an in-depth study of the industry's practices in Alberta between 1938 and 2019. A key analytic focus is on the industry's organizing principles, or "institutional logics", that provide organizations with templates for demonstrating the appropriateness of their practices.
We will explore the two sub-processes found to be key to the transformation of logics. The first, a bottom-up process, will underline how evaluations of worth by a growing array of stakeholders contributed to a change of values, and eventually to logic transformation. The second, a top-down process, will point out the role of global cultural movements (such as the environmental movement during the 1970s), as well as influential economic and geopolitical events (such as the second world war, and oil induced global downturns).
In this talk, Bandita will discuss how a more process based understanding of the oil and gas industry's transformation can inform future organizational decisions and energy policy
Bandita Deka Kalita is a PhD student in the Department of Strategy, Entrepreneurship, and Management at Alberta School of Business. Her research is currently focused on institutional transformations, with a particular focus on how processes of evaluation might affect value configurations and organizational strategies. Her approach is based on longitudinal research designs and mixed methods. Before starting her Ph.D. studies, she served in the industry in various roles. She graduated from the Asian Institute of Technology (M.B.A) and Gauhati University (B.E).