A Public Lecture Series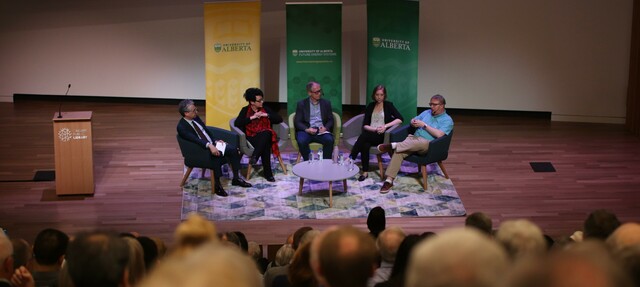 Energy Talks is a speaker series featuring groundbreaking research presented by experts from the University of Alberta's Future Energy Systems research initiative and Energy Systems Signature Area. Energy Talks lectures can be delivered in numerous venues across Canada, in partnership with local host organizations.
If you are interested in hosting an Energy Talks lecture, please contact fescom@ualberta.ca indicating your organization, preferred topic(s), proposed date, and audience. Please note that due to research and teaching obligations, our research group may not be able to accommodate all requests.
Upcoming Dates
February 24, 2021 - The Big Picture: Modelling the Global Energy System and Everything Else with GCAM
Lots of people want to predict the future, but how can we do it? Computer models can help us predict the future. We use models in almost every area of government, society, business, the economy and research now. Integrated assessment models (IAM) simulate physical and economic aspects of energy, land, agricultural, climatic and water systems, and their interactions, at regional to global scales over the near to long term. These detailed computer models are intended to support sustainable provincial/national resource development and infrastructure planning, and to illustrate the potential trade-offs and comprehensive, "big picture" effects of alternative policy and technology options.
My research team is working with the Joint Global Change Research Institute, College Park, MD, and Environment and Climate Change Canada on an IAM called GCAM, the "Global Change Analysis Model", to develop the model for Canadian use at a provincial scale. GCAM is a community (i.e. shared and openly available) model and an important international tool for scientific inquiry; hundreds of academic papers using GCAM have been published in peer-reviewed academic journals over the last 30 years.
In this presentation, I will discuss integrated assessment, GCAM, and some recent applications of the model from our research team (U of A, JGCRI, and ECCC).

Dr. Evan Davies is an Associate Professor in the Department of Civil and Environmental Engineering at the University of Alberta, in Edmonton, Canada, and specializes in water resources planning and management. His research focuses on numerical simulation of the impacts of alternative management policies on water resources at scales from local to global. Recent projects have included long-term municipal water demand projections for Edmonton and Calgary, Alberta, development of a systems model for analysis of long-term irrigation expansion in southern Alberta, irrigation reservoir optimization for operational use by Alberta's irrigation districts, municipal drainage simulation for Edmonton, Alberta, and flood risk management for Calgary, Alberta. He also works in integrated assessment and its application to the water-energy-food nexus, and is helping to calibrate the Global Change Assessment Model (GCAM) for climate change policy assessment in Canada. Dr. Davies received a PhD from the University of Western Ontario (2007), and a Masters degree from the University of Waterloo (2003).
March 24, 2021 - Small But Mite-y: The Role of Soil Invertebrates To Measure Ecosystem Recovery
Our planet as we know it, is changing every single day. Natural resource exploration. Agricultural practices. The growing human footprint. Even natural disasters like forest fires and hurricanes are just a few examples of our environment is being damaged and degraded. We are losing critical habitat types and decreasing global biodiversity. There are two options when dealing with disturbed areas: we can leave it or try and fix it. The only way to fix it is through reclamation. Reclamation is the process of returning the affected area to something similar to what was there before.
When we monitor a damaged area, the current gold standard is to measure the soil and vegetation properties. This two-component approach fails to consider the complexity of an ecosystem, and research has shown that it lacks the sensitivity needed of an effective indicator. Soil invertebrates are the solution. Soil invertebrates include worms, insects, mites. They will allow for more effective and efficient reclamation monitoring. How? They are sensitive to fertilizers, changes in vegetation, and management practices. They are directly linked to ecosystem health, stability, and shorter reclamation timelines.
In my innovative research I am identifying critical soil invertebrate groups in undisturbed and damaged areas actively being reclaimed. My research is not only ground-breaking, but I am breaking literal ground and it will allow me to develop an early detection system. This can be used by various stakeholders to identify problem areas, introduce early course correction, and optimize efforts in damaged areas being reclaimed. We owe it to future generations to take care of our planet, there is no planet B.
Stephanie Ibsen likes to refer to themselves as the scientist that Edmonton built. Stephanie completed their undergraduate at MacEwan University before continuing on to the University of Alberta for graduate school. Stephanie is currently working on their PhD in Land Reclamation and Remediation and loves random fun facts. Like did you know that more than 90 percent of all living animal species are invertebrates? Yet people know so little about them! In addition to soil invertebrates, this talk will teach you all about soil, plants, and the science behind land reclamation. Our planet is being damaged, and this earth doctor is prescribing some creepy crawlers.