A Public Lecture Series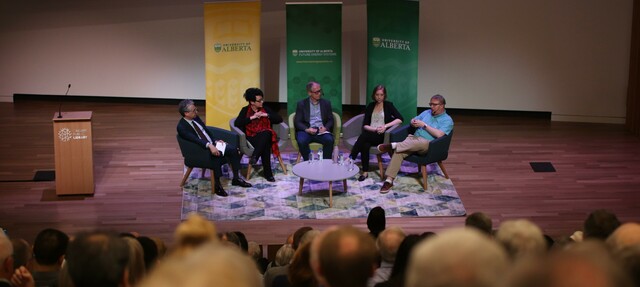 Energy Talks is a speaker series featuring groundbreaking research presented by experts from the University of Alberta's Future Energy Systems research initiative and Energy Systems Signature Area. Energy Talks lectures can be delivered in numerous venues across Canada, in partnership with local host organizations.
If you are interested in hosting an Energy Talks lecture, please contact fescom@ualberta.ca indicating your organization, preferred topic(s), proposed date, and audience. Please note that due to research and teaching obligations, our research group may not be able to accommodate all requests.
Upcoming Dates
April 23, 2021 - Energy Talks - From Resistance to Acceptance of Wind Farms in Alberta
Alberta is an energy powerhouse, but support for renewable energy is weak, especially in rural areas where most energy production is located. Energy development is also (till now) large scale, with limited attention to smaller-scale and community-based projects. Given this context, our recent work in Alberta asks two key questions: Why are Albertans resistant to renewable energy projects and how can we (re)design such projects to enhance energy transition? Drawing on insights from in-depth interviews with rural landowners and a survey (n = 401) of large-scale landowners, we seek to answer these questions. Analysis is informed by concepts in procedural and distributive justice, with attention to the role of local ownership, inclusion and influence as factors leading to more support for wind farms among Alberta landowners. 
John Parkins is a professor of sociology in the Department of Resource Economics and Environmental Sociology at the University of Alberta. His current research and teaching examines the social context of resource development, renewable and community energy, public deliberation and environmental politics, and sustainable agriculture in Alberta. Recent publications examine case studies of community energy in western Canada, barriers and opportunities for wind power development in Alberta, the social context of public engagement in the Canadian forest sector.
May 26, 2021- Energy Talks - Hot Rocks and Radio Waves: Exploring Canada's Geothermal Potential
Western Canada has significant geothermal resources, yet Canada currently has no geothermal power plants providing electricity to the grid. This Energy Talk will provide a brief introduction to Earth structure, plate tectonics, and geothermal energy. With this foundational knowledge, we will take a look at some of the pioneering geothermal projects currently underway in Western Canada.
Then it's time to explore geophysics and an interesting geophysical method called magnetotellurics. Seismology, which you may have heard of, uses sound waves to image the ground beneath our feet. Magnetotellurics, which is less common, uses radio waves to image the subsurface. This method is useful for geothermal exploration and we will see how it has been applied to Cedar's PhD research at the University of Alberta.

Cedar Hanneson is a PhD candidate in the Department of Physics at the University of Alberta. In 2017, he received a Bachelor of Science honours degree in geophysics from the University of Victoria, then moved to Edmonton to begin graduate studies under the supervision of geophysicist Dr. Martyn Unsworth. Cedar's scientific research uses geophysics to study the rocks of southern BC and he applies this research to the search for geothermal resources.