« Back to News
Eleven Future Energy Systems researchers awarded new government funding
Posted on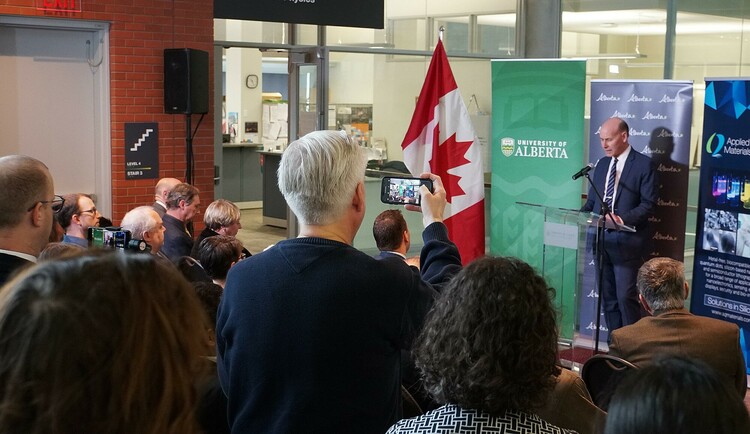 Alberta Innovates has announced that 34 projects will receive $25.1 million through the Government of Alberta's Climate Change Innovation and Technology Framework
Eleven Future Energy Systems researchers were among the recipients of new funding announced today by the Government of Alberta and Alberta Innovates. The funding, part of the Climate Change Innovation and Technology Framework, supports research that will help meet the province's climate change goals through technical innovations in the energy sector.
Future Energy Systems is a funding partner in four of the projects, and many of the others will have connections to researchers' Future Energy Systems work. In the coming months, this website will profile some of the successful researchers and their projects.
Congratulations to the Future Energy Systems recipients!
| | | |
| --- | --- | --- |
| Researcher | Project | Institution |
| Jonathan Banks | Geothermal Power from co-produced fluids and hydrocarbon reservoirs throughout the Western Canadian Sedimentary Basin | University of Alberta |
| David Bressler | Alberta Biojet Initiative (ABI): Upgrading of University of Alberta's LTH technology to Biojet & Biomass Energy Network | University of Alberta |
| Bipro Dhar | Advancing High Solids Anaerobic Digestion of Organic Waste | University of Alberta |
| Arman Hemmati | Next Generation of Clean Pipeline Technology for Energy Transport | University of Alberta |
| Ali Khajehoddin | Next-Gen Modular Green Building Energy Systems With Optional Energy Storage | University of Alberta |
| Yunwei (Ryan) Li | Smart Gas Field Microgrids | University of Alberta |
| Hao Liang | An AI-Enabled Non-Intrusive Approach for Optimal Planning and Operation of Sustainable Greenhouses | University of Alberta |
| Wei Victor Liu | Refining the design approach for GeoExchange system | University of Alberta |
| Paolo Mussone | Field validation of a low-carbon technology for the remediation of hydrocarbon contaminated sites | Northern Alberta Institute of Technology |
| Dominic Sauvageau | Intensification of methane-consuming bacteria towards production of advanced biofuels | University of Alberta |
| Jonathan Veinot | Luminescent Solar Concentrators for Building Integrated Photovoltaics (Applied Quantum Materials Inc.) | University of Alberta |