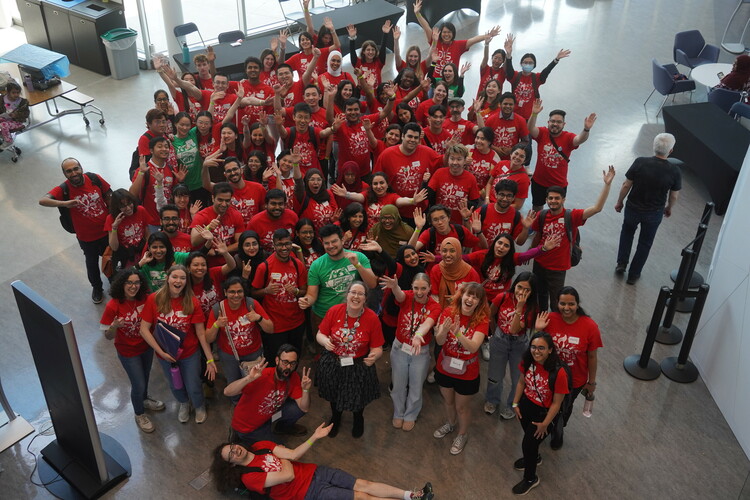 Nearly 1700 people attended the TELUS World of Science - Edmonton this past Saturday to learn about future energy systems.
On Saturday, May 13, Future Energy Systems hosted a Science Rendezvous event at the TELUS World of Science - Edmonton (TWOSE). Science Rendezvous began in 2008 and has since grown to include 30 institutions and 285 community partnerships across Canada. The event is the single largest one-day science festival in Canada, and it's a part of Science Odyssey, a nationwide science celebration that runs during the month of May. 
Since 2021, Future Energy Systems has participated in Science Rendezvous, and since 2022 has teamed up with TWOSE to create a day of interactive activities, sharing scientific research and knowledge with kids and the general public. Read more about last year's event here. This year, we wanted to go above and beyond, making the event even more fun and more successful for everyone.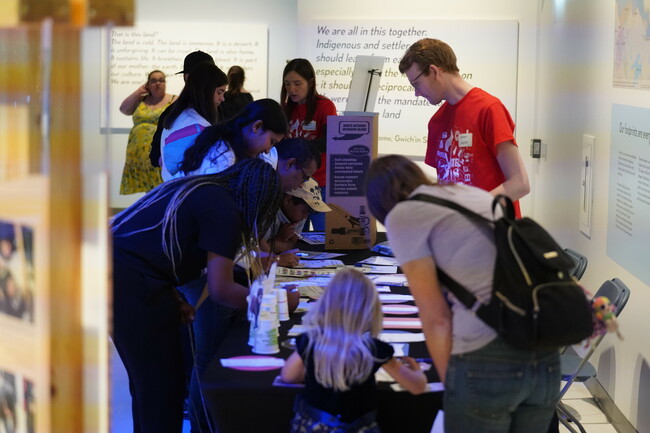 Throughout the day, our hundred or so volunteers interacted with and taught kids and adults about energy research, technology, systems, and the future of energy. Our volunteers were spread throughout the whole of TWOSE, each with demonstrations and interactive games geared toward educating people about energy systems and future energy resources. We even had guest appearances by Tommy and Remi, the main characters from our Energy Adventures educational book series.
As the kids interacted with researchers, they completed activities that helped them learn about energy and STEAM (science, technology, engineering, arts, mathematics). "We wanted the kids to get something out of this experience, like they were participating in an adventure" says Dr. Valerie Miller, Outreach and Engagement Coordinator for Future Energy Systems and coordinator for the event. "The kids were given bingo cards and received a stamp for each booth they visited and completed an activity at. And they got to choose a prize once they collected enough stamps."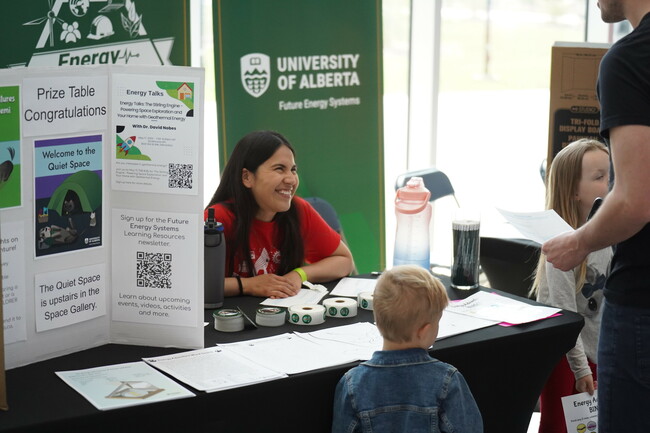 This year, Future Energy Systems also wanted to give back to the community and have more people spend the day learning about science and energy research. Thanks to TWOSE, we were able to partner with community organizations, including Big Brothers Big Sisters, WISEST, Kids Up Front Edmonton, and Action for Healthy Communities, to donate tickets to community members, newcomers, Albertans who have been displaced by the recent wildfires, and more.
Science Rendezvous 2023 marks our largest and most successful single-day event yet. If you missed our researchers this weekend, there are more events this summer you can catch our researchers at. Sustainival is the world's first green carnival and will take place in Edmonton on June 8-11, 2023, and we will be back at TWOSE on July 8, 2023 for a mini Energy Adventure. Our researchers will also be attending the Innovation Hub at K-Days during July 28-30 of this year.
___________________
Partner Organizations:
Action for Healthy Communities
AHC is a member of the Alberta Association of Immigrant Serving Agencies (AAISA) and works in a spirit of community development and partnership with numerous agencies and organizations in Alberta.
Boys & Girls Club Big Brothers Big Sisters
Boys & Girls Clubs Big Brothers Big Sisters (BGCBigs) is a community-supported organization committed to the healthy development of children, youth, and their families by providing safe places, positive relationships, services, and opportunities to develop personal strengths and interpersonal skills that enhance their long-term success in life. BCGBigs Mentoring and After-School programs seek to support vulnerable children and youth challenged by the impacts of poverty. The organization also works in partnership with other community organizations to develop and deliver programs geared to specific populations, such as the immigrant and refugee community, the Indigenous community, and other vulnerable groups (e.g. LGBTQ youth).
Edmonton Mennonite Centre for Newcomers
EMCN sees a future where many citizens walk with newcomers to bridge their transition into the community. To achieve this vision, we will serve as a key catalyst and leading collaborator in positively shaping the attitudes, behaviours and practices of organizations and individuals to value the diversity that newcomers bring to the community.
EMCN works with up to 17,000 newcomers each year, from all parts of the world, out of three locations and various community locations in the Edmonton area. We currently have about 200 staff, that together, speak and offer service in over 50 languages.
Kids Up Front is a non-profit organization that is committed to ensuring that all children and youth have access to life-enriching experiences. Their mission is to connect deserving kids to sporting events, concerts, theater performances, and other community events.
Since their founding in 2003, Kids Up Front has provided over 500,000 experiences to children and youth across Edmonton and surrounding areas. Their work has helped to create lasting memories for these children and has given them a chance to experience the joy and wonder of childhood. As a donor to Kids Up Front, you are helping to make a difference in the lives of children and youth who face significant challenges. Your support allows Kids Up Front to provide access to experiences that can have a profound impact on the lives of these children. By working together, we can create a brighter future for all children, regardless of their circumstances.
Women in Scholarship, Engineering, Science, & Technology (WISEST) focuses on creating effective programs to empower women (and other underrepresented groups) to pursue, impact, and succeed in the fields of science, engineering, and technology. WISEST has over 40 years of creating awareness of and breaking down the barriers to diversity in science, engineering, and technology, and focuses on the following priorities:
Engage: providing hands-on experiences and outreach opportunities to challenge perceived perceptions.
Educate: promoting curiosity-based academic and career opportunities for participants.
Equip: equipping students to succeed through mentorship and role models.
SciRen 2023
Photos from Science Rendezvous 2023