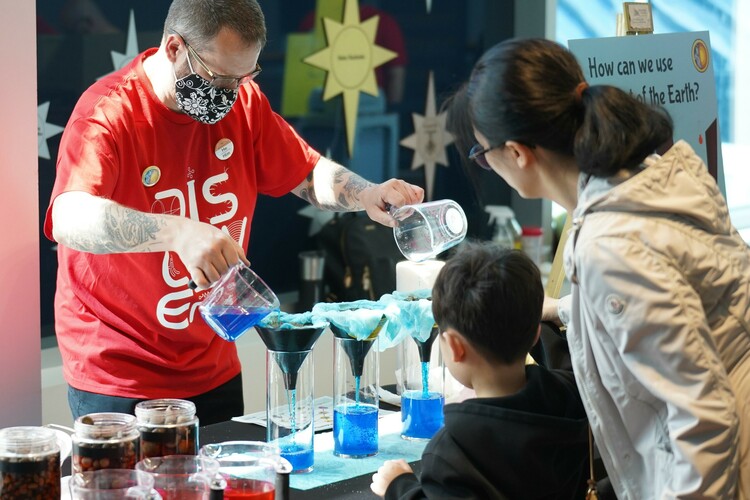 Future Energy Systems partners with TELUS World of Science Edmonton for a day of activities teaching children about their energy futures
More than 800 people who visited TELUS World of Science Edmonton last Saturday had a chance to participate in an energy adventure led by Remi, the cartoon cat, and Tommy, the cartoon dog –– stars of the recently-launched Future Energy Systems educational books series that teaches readers about energy. 
Throughout the science centre, 18 booths crewed by more than 70 volunteers from the University of Alberta and partner organizations showcased the science behind energy, including solar, wind, geothermal, energy storage, car design, and more. Public health researchers explored the impact of climate change on our bodies, reclamation specialists investigated the importance of decontaminating our water, and scientists taught children how to solve problems –– safely –– with science.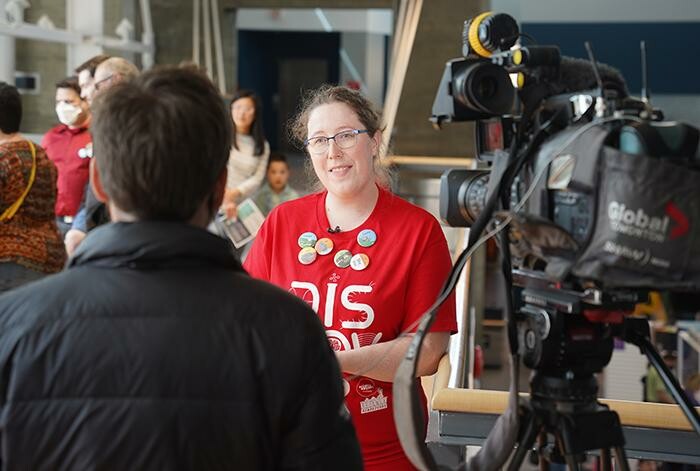 Dr. Valerie Miller speaks to Global News about the event.
"The complexity of energy systems can seem overwhelming, even to those of us who've studied them for years," explains Valerie Miller, the Outreach and Engagement Coordinator for Future Energy Systems. "Our goal is to give kids a fun introduction to the breadth of energy systems research, so they understand that there's a place for everyone in this work –– whether they think making a pickle glow is fun, or they prefer building their own windmill." 
Equipped with a passport guiding them through their adventures, the attendees at TELUS moved from activity to activity collecting stamps at each station. Along the way, Tommy and Remi –– eponymous heroes of The Energy Adventures of Tommy and Remi –– asked questions about science, to guide them along the way. 
"We've run events like this before where we ask kids to go from station to station, and when the topic is as diverse as energy systems we know sometimes it can be confusing," Valerie says. "Tommy and Remi give us the chance to put everything together in context, which makes a huge difference in terms of a child's understanding."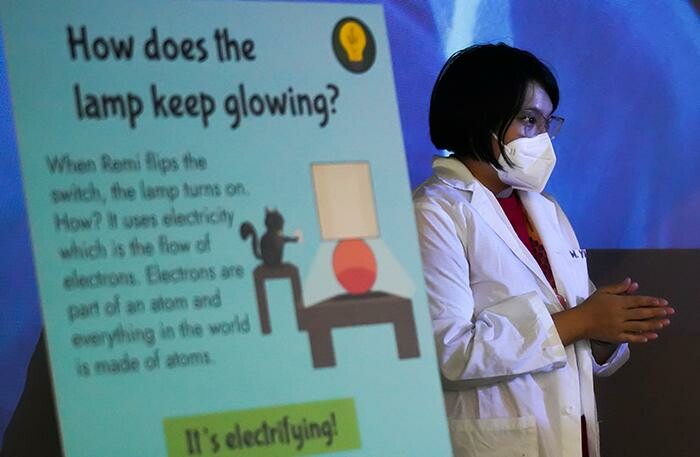 WISEST Outreach Coordinator Helen Yip explains the importance of safety in science.
Kids who enjoyed following the trail blazed by the cat and dog had the chance to take selfies with them at a photo booth once their journey was done –– and to take home two of their stories, Mystery of the Glowing Light and Case of the Shiny Roof, both of which were on sale at the event for the first time. 
"We send Tommy and Remi books for free to school and public libraries, and there are videos online featuring complete readings of the stories," Valerie points out. "But we kept getting requests from people who wanted to buy copies, so we're starting to make them available." 
Profits from book sales are being invested back in the series. 
"Any book sold makes it possible to send two more free copies to schools and libraries in need," Valerie says. "So far the books have made it all across Canada, and we want them to go even further." 
Given the success of Tommy and Remi's residency at TELUS World of Science, the characters –– and the researchers they introduce to children –– have plenty of work ahead of them. Each child and their parents left with new information about the way their lives are powered every day, and insight into how the University of Alberta is contributing to research that will make a difference.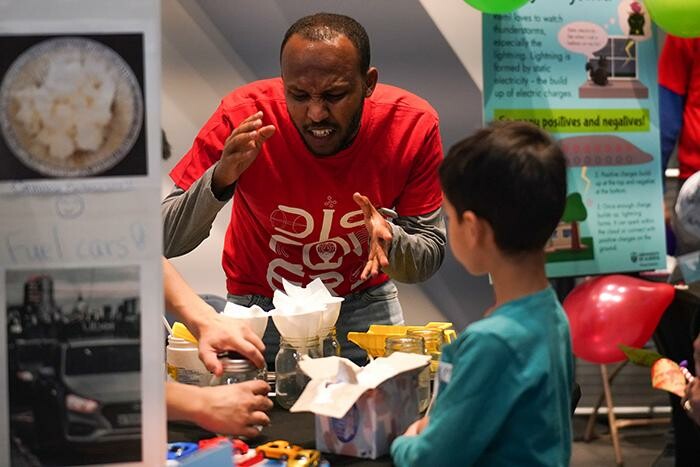 PhD Candidate Dagem Haddis explaining biofuel production.
"We're one of the world's top energy research universities," Valerie asserts. "But me just saying that doesn't mean much. So many of our researchers are doing work that will literally change our daily lives, but because a lot of that work is so advanced, and takes so much time, it's tough to share with people who have a lot of other things to think about." 
Through outreach like this Energy Adventure, Valerie hopes parents and their children will get a sense of the breadth of the University's efforts on the energy systems file. More importantly, she wants children to learn early that there's room for everyone to join the research community working on energy systems.
"Energy shapes all of our lives as humans on the Earth, no matter how tall or small we are," she smiles. "The more people who understand that, and work on ways to make it sustainable for our society, for our economy, and for our environment, the better we're all going to be."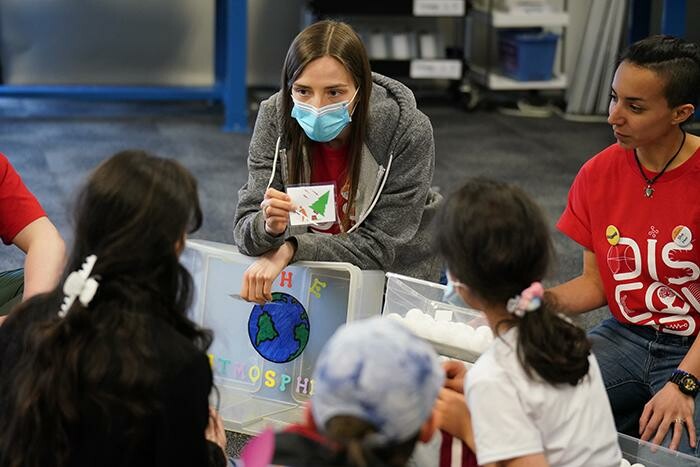 PhD students Breanne Aylward and Marina Banuet Martinez explore environmental impacts on human health.
Saturday's Energy Adventure was the first instalment in the University of Alberta's events as part of NSERC Science Odyssey, a Canada-wide festival of science and learning. Virtual events will continue throughout the month, including a sold-out opportunity to learn to draw energy with Tommy and Remi illustrator and Future Energy Systems team member Kaitlin Pylypa, numerous activities with University of Alberta researchers and alumni, and a public lecture about the future of hydrogen energy with Principal Investigator Dr. Marc Secanell, Director of the Energy Systems Design Laboratory.  
"For the kids we saw on Saturday, this Energy Adventure is just the beginning," Valerie concludes. "For those of us who've been on the adventure for a while, there's still so much to learn." 
To keep up to date with Future Energy Systems events, subscribe to our newsletter.