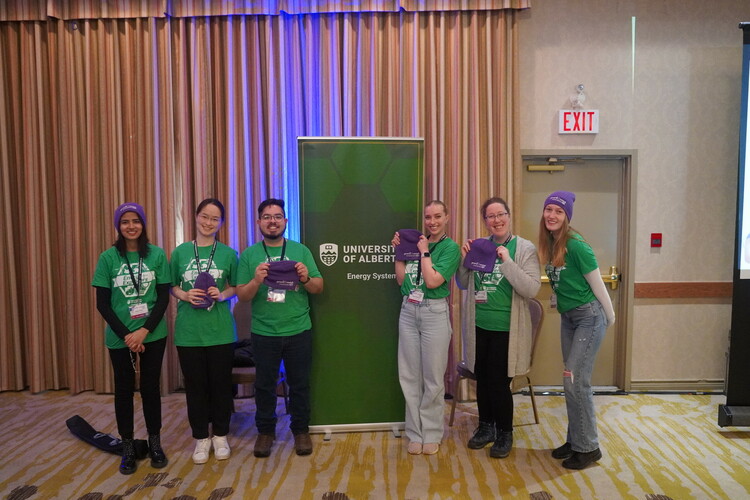 This past weekend, a team of Energy Explorers was invited to attend an energy and water climate conference for high school students.
Inside Education hosted Generate and Navigate, a youth energy, water, and climate summit over the past weekend (March 16-19) in Canmore, Alberta. With 20 high schools from across Alberta joining the summit to learn about climate, water, and energy technology and innovations, career paths, and research opportunities. 
Four of our Energy Explorers and two members of Future Energy Systems' staff were invited to help inspire the next generation of climate leaders. Researchers from chemistry, engineering, environmental sciences, and science communication spent their Saturday sharing their knowledge and research projects with students and their teachers. 
There was something for everyone; chemistry students discovered artificial photosynthesis and nonrenewable and renewable energy resources, biology lovers learned about land reclamation and wastewater repurposing, and some students even took some time to find out about what it means to be a science communicator. 
"Opportunities like this give our Energy Explorers the chance to share their expertise with new audiences, and hopefully inspire a new generation of researchers who have the potential to be joining labs in the next decade," said Dr. Valerie Miller, Outreach and Engagement Coordinator at Future Energy Systems. "It's very exciting and rewarding to be a part of, and it's great to see the researchers so engaged with the kids."
Our Energy Explorers will have another chance to teach the public about energy science during Science Rendezvous on May 13, 2023. The event is part of Science Odyssey and will take place at the Telus World of Science in Edmonton, Alberta.
Energy Explorers is a science communication training program for graduate students at the University of Alberta's Future Energy Systems. Read more about it here. A third training group for the Explorers will be held in June, with dates to be announced.
Interested in having the Energy Explorers at your science event? Contact vsmiller@ualberta.ca for more information.
EE in canmore March 2023