« Back to News
Energy Explorers connects research with families
Posted on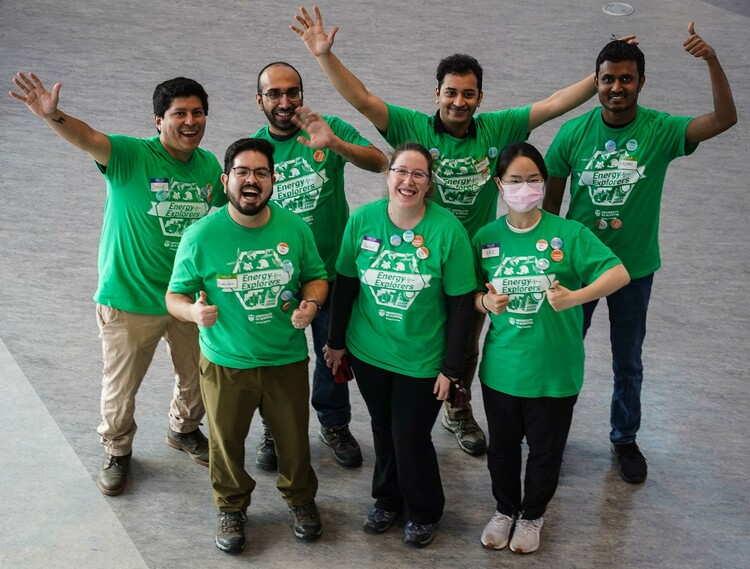 New outreach training program builds skills for communicating research with public audiences
"Hey, do you want to play with some lasers?"
At TELUS World of Science Edmonton last weekend, Future Energy Systems PhD student Abbas Sheikh Ansari had a perfect pitch to hook families passing his table into learning about the interactions of nano structures with light. 
Drawn by the promise of shooting laser beams at coloured translucent slides, children and their adults quickly (and safely) discovered that how light and colour interact, and how changes to material at the nano scale –– a 1000 times smaller than the width of a human hair –– can change how materials interact and behave. 
Next door to Abbas' table, Master's student Francisco Javier Basaure Figueroa helped kids and parents get their imaginary car from work to the beach to the mountains, refueling or  recharging it along the way from a variety of energy sources and leveraging energy storage. Doctoral student Pasan Gunawardena Loku Hettige then demonstrated how solar panels, wind turbines, and energy storage could work together to turn on the lights in a home –– and how clouds, snow, and calm days could disrupt the system. 
Down the line, Master's student Fei Cheng walked families through a choose-your-own-adventure game where they discovered the products and byproducts of different industries, and learned about different solutions for reducing their impacts. From there, kids learned valuable lessons about public policy and budgeting resources for water remediation projects in an activity from PhD student Jerico Fiestas Flores, and finally visited Master's student Abhijeet Pathy to explore biochar through a game in which they had to extract contaminants from water. If they successfully removed 15 particles from the fish bowl, they won a pencil; 17 and they would have won a pack of colouring markers. 
"I nearly ran out of prizes," Abhijeet laughs after the event. "These kids are very good, I need to make the game more difficult!" 
These six activities were the product of weeks of training and planning as part of the new Energy Explorers science communication training program, which is available to graduate students and post-doctoral fellows conducting energy systems research at the University of Alberta. 
Built using the architecture of the internationally-renowned Portal to the Public science communications training program, Energy Explorers helps participants build skills and confidence for sharing their work outside the academic environment. Over the course of three sessions, students undertake exercises that explore the limitations of technical language and jargon, explore the importance of inclusivity in language, and develop techniques for distilling advanced knowledge into questions, explanations, and activities that are approachable and fun for kids. The program wraps up with a public event where participants pilot a family-friendly activity connected to their research at a science centre, library, or other high-traffic venue. 
"We focus on the family audience because there's a lot of demand among our partners for science outreach to younger age groups," explains Valerie Miller, Outreach and Engagement Coordinator for Future Energy Systems. "We've also found that if a student is comfortable explaining their work to a five year old, they usually have a lot more confidence dealing with a stakeholder from industry, or a politician." 
Through partnerships with TELUS World of Science Edmonton's Research Zone training program –– built on the same Portal to the Public platform –– UofA students have had access to this type of training for many years. The newly-launched Energy Explorers brings the learning experience in-house, with training provided on campus by Future Energy Systems staff in a format customized to meet student needs.
"We can offer more frequent sessions more flexibly to smaller groups, and we can do a lot more one-on-one mentorship right in the students' labs," Valerie elaborates.
The program is intensive: participants are required to attend three half-day training sessions over four weeks, to participate in the public research showcase, and to take part in three further public education events within a year of completing the training. 
"You definitely need to make sure you have capacity in your schedule for this program," Valerie cautions. "If you have a heavy semester, you might want to wait for the next cycle."
Fortunately, one of the advantages of Energy Explorers being in-house is that the next offering is never too far in the future. The next session will kick off in February 2023, and capacity is limited, so if you are interested in taking part, contact Valerie Miller at vsmiller@ualberta.ca for more information. 
For now, the first class of Energy Explorers is ready for new adventures. A number of 2023 event invitations have already come in, and Jerico, Abbas, Abhijeet, Pasan, Francisco, and Fei have more lessons to teach about energy systems, and the ways in which UofA research can help with the energy transition.
Energy Explorers - Fall 2022