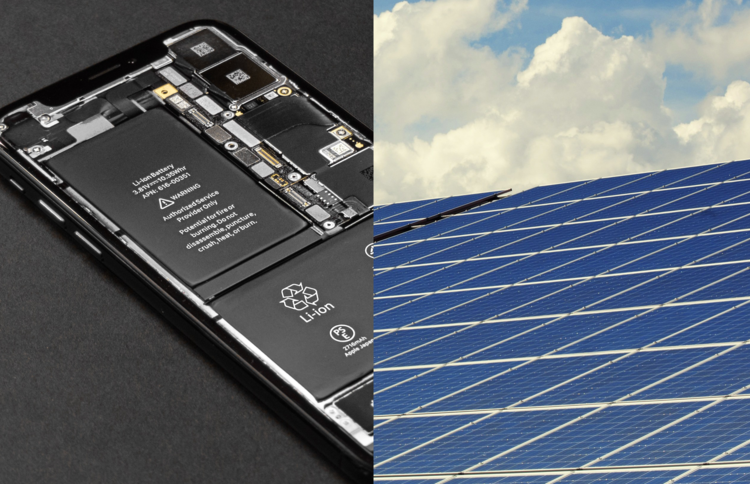 GreenSTEM fellows Bing Cao and Zhongyi Quan are embracing entrepreneurship to ensure their work will benefit society
Research uncovers new knowledge, teases out hidden truths, analyzes connections, and ultimately brings ideas into reality. But what happens once those ideas are realized is a concern shared by Future Energy Systems postdoctoral fellows Bing Cao and Zhongyi Quan.
"I want to bring the idea from the lab to the field," Bing explains. "We have a technology that could improve people's lives, but it needs to get out there first. I want to help do that."
Zhongyi agrees: "My father is a professor and I've always known the value of academia, but there's a different kind of opportunity here that I want to pursue. From the beginning I've always had plans to apply the research I was doing in a start-up. "
While many of their fellow post-docs have decided to seek academic posting, that entrepreneurial perspective has prompted both Bing and Zhongyi to chart a different path: this year they both won GreenSTEM fellowships from the Government of Alberta, and they are launching companies to commercialize new energy technologies.   
Growing through GreenSTEM
Getting the research out of the lab is a difficult process that many technologies don't survive. The jump from an academic research project into a commercial development is fraught with so many technological and economic challenges that it has come to be known as crossing 'the valley of death'. While such dramatic imagery can be undeniably discouraging, both Bing and Zhongyi express determination. 
"Coming to Canada from China, I saw lots of opportunities in energy –– green energy in particular," Zhongyi explains. "For solar, for wind –– there's more and more diversity every year." 
At the beginning of his program he recalls discussing the energy landscape with FES HQP Hao Tian, who is now a collaborator in his GreenSTEM venture. They concluded that there was an opportunity to build a company that would take advantage of the shifting market –– a challenge Zhongyi is now confronting. 
Bing sees similar opportunities. Even though the Albertan economy is currently highly dependent on oil and gas, she believes the government is trying to make the switch to renewable energy. 
"I hope to help that process, to help make the transition to more cleaner energy sources," she says. "By developing better technologies, we can do that."
Opportunity knocked this year in the form of the Government of Alberta's GreenSTEM initiative –– an entrepreneurial pilot program for Science, Technology, Engineering, and Math (STEM) Masters and PhD graduates. It focuses specifically on 'deep technology' –– innovations that are more challenging to commercialize than conventional goods or software. Generally, this type of product, also called 'hard-tech', has lengthier development timelines and higher costs of research, stymying attempts to bring the technology to market.
While Bing operates in the realm of chemistry and Zhongyi in electrical engineering, both of their proposed technologies fit this category that GreenSTEM targets: tangible, science-based innovation with hardware components. After a comprehensive application process, business pitch challenge, and review, they were both awarded GreenSTEM fellowships to pursue their entrepreneurial goals. 
Now each of them is taking on a new role: CEO.
Nanode Battery Technologies Ltd.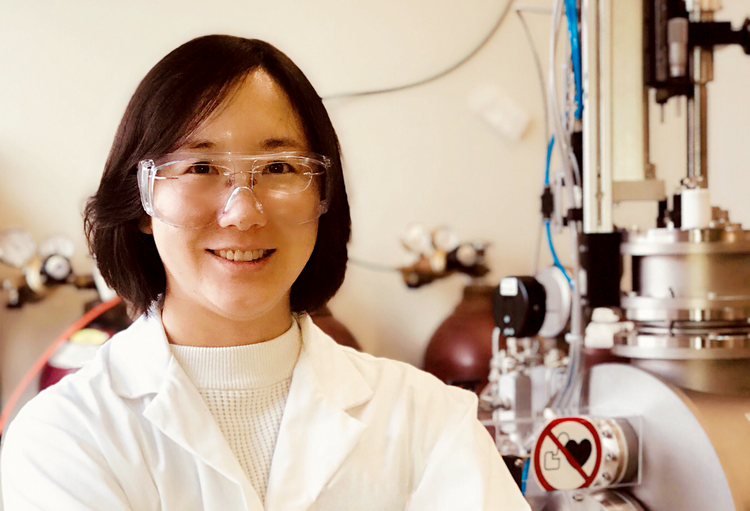 Bing is well versed in the realm of academic research and she's now ready to tackle a new challenge: entrepreneurship.
From small consumer electronics to large-scale renewable energy storage, there is a critical technology that enables us to unplug from power lines: batteries. 
"Batteries are a vital part of our current energy system," Bing says. "For portability and intermittent power from renewables, we rely on them across society." 
Lithium ion batteries are one of the most important and prevalent types of batteries we currently use, found in cell phones, laptops, medical equipment, power tools, and more. Electric cars that rely on these types of batteries are becoming increasingly common and desirable as well, but they are still held back by concerns about battery life. 
"Right now, many people are hesitant to buy them because they only store enough energy for about 300 miles," she adds. "There are also concerns about the batteries they carry, including their lifespan and their lifecycle." 
Concerns about battery longevity led Bing's former supervisor, Future Energy Systems researcher Jillian Buriak, to begin investigating ways to make batteries last longer through the incorporation of new materials in their construction. 
Two of the most important components of most batteries, regardless of size, are the cathode and anode. These two materials represent the different charges between which electrons flow, releasing the power stored in the battery. While both parts can be composed of a variety of materials, the classical anode material is graphite –– with a lifespan of 30 years.
"Graphite has been pushed to its limits –– it just cannot meet the demanding needs of the future," Bing explains. "New materials with higher capacities that can be manufactured faster are in demand." With Buriak's guidance, Bing found that she could do better than the standard, which prompted the birth of Nanode.
Nanode's aim is to provide superior, free-standing, drop-in anode for lithium ion batteries. Instead of the traditional graphite, they will produce a tin-based metal alloy ribbon anode to use in the battery. "It has a higher energy density than graphite, and requires little modification of existing battery assembly, and will, in fact, remove a costly step." 
The technology that Nanode uses is designed for industrial use. "Our product is unique –– it is made in a one-step, dry process, which is perfect for the large scale mass manufacture, and comprises elements that are abundant on the earth's crust, and economical," Bing says. 
To date, Buriak's lab has successfully demonstrated a 'coin cell', named for its size, in the lab. Next steps involve up-scaling to reach pilot scale –– a lithium ion battery at commercial scale and size, using their anode technology. 
With the anode material market at a combined $1.8 billion USD in 2018 –– and projected to reach $5.2 billion in 2024 –– and few companies in Canada developing anode nanostructures, this technology could be a significant asset. With that potential future ahead, Bing has already incorporated Nanode and started proceedings to file an intellectual property (IP) claim.
"At 6 months in, I hope to collaborate with an external partner to make the pilot scale, and eventually we'll find an industrial partner for production," she says.
Electronic Grid Systems Inc.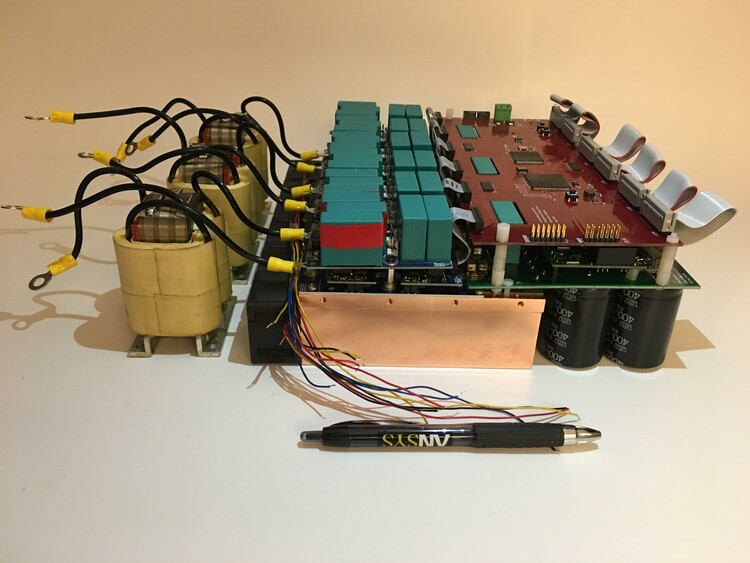 A power converter designed by Zhongyi and colleagues, much smaller than the traditional technology currently in use. 
While batteries can help make energy mobile, much of the future energy transmission depends on making different stationary energy sources safely compatible with each other. That's where Zhongyi's startup comes in.
"Our electrical grid operates in AC –– alternating power. The power generated by renewable energy sources –– solar, wind, or others –– is either in DC, direct current, or needs to be first transferred to DC," he explains. Energy generated by these renewable sources must be converted from DC to AC to fit into our everyday lives, and to make this change we rely on power converters. 
In addition to switching the type of current from AC to DC, power converters also influence power quality –– the waveforms of the current and distortions in the voltage. Similar to how waves hitting a beach can be more or less regular, or bigger or smaller, an electrical current can have many different properties. Our AC grid depends on regular, sinusoidal voltage and current in the power –– a steady, consistent, controlled flow of electricity, which is considered good quality. Renewable energy can be far less predictable, so power converters that help improve power quality are a powerful boon for these new sources.
While studying under the supervision of Future Energy Systems researcher Ryan Li, Zhongyi worked on improving power converter technology through the introduction of different types of circuits to improve waveforms, and by scaling converter units down in physical size –– making them easier to build and install without losing functionality. 
Now, through Electronic Grid Systems Inc., he's applying these innovations to create lightweight converters that can be installed between the panels at solar farms and the utility grid, generating power of a quality that would be acceptable to the grid. 
"Current solar inverters are big, around 250 litres, and they can weigh 100 to 150 kilograms," he explains. "You need machines to install them, or four people working over a couple hours." Most large solar farms require hundreds of inverters, which quickly adds up to high installation costs. Zhongyi predicts his inverters could be five times lighter, reducing labour costs by at least fifty percent. 
Zhongyi has recently incorporated Electronic Grid Systems, and remains focused on refining the inverter designs. One working prototype has been tested in the lab, so the next step is to have it tested in the field before tackling a large solar farm. He's also hunting for a pilot opportunity that will be relevant to the Canadian marketplace.
"We're designing our unit for cold temperatures, selecting components that work down to temperatures as -55 degrees Celsius," he points out. To bolster the inverters' resilience in cold conditions, the design takes advantage of the heat these units naturally generate.  "The core device we're using –– called a power semiconductor –– can generate more heat under cold conditions and less under warm temperatures, so it doesn't fail on either end."
In his business planning, Zhongyi has identified several major competitors in the field. Some are giant companies in Europe and Asia, others are startups like his company, but he's confident in the strength of the different features in his product: "Our main advantage is the smaller size with the same power rating."
Academia and entrepreneurship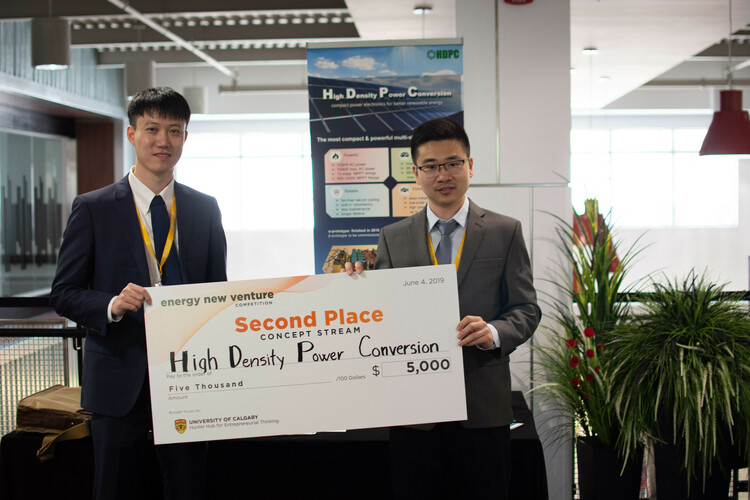 Zhongyi previously gained attention when presenting his technology, then under the name High Density Power Conversion.
GreenSTEM fellows are required to have a business mentor who provides guidance that will help them climb out of the so-called valley of death. Both Bing and Zhongyi cite their advisors as huge assets: Dr. Craig Milne of Copperstone Technologies Ltd. is mentoring Bing, and Darrell Petras of TEC Edmonton is mentoring Zhongyi. Both new entrepreneurs are also applying the same dedication to learning about business that made them leading researchers in their respective fields.  
"I've been attending StartUP TNT Edmonton events and Nanode is selected as one of the TOP20 startups in Edmonton to attend the Investor Summit Event. I've also started to collaborate with the School of Business MBA program to get support on business planning," Bing says. "There's a very active community for startups in Edmonton." 
Zhongyi has been actively reaching out to potential partners and customers for customer validations. Many of them have expressed interests in his products. The company is also considering making applications to accelerator programs and Federal and Provincial cleantech grants. "We've been working with TEC Edmonton for two years, so we're aware of the benefit of access to more investors and mentors," he says.
Although the valley of death remains a daunting challenge for Bing and Zhongyi, they clearly understand the benefits of crossing it. Our transitioning energy system will need the sorts of innovations they both spent years mastering in their respective labs, and one of the only ways to implement them is through entrepreneurship. 
Zhongyi is happy to accept this new challenge: "I'd like to pursue this now, try my best to develop this company to success with the work I accomplished by being in academia."
"I love science, I love technology, and I love to make practical science," Bing concludes. "All science is eventually useful, but I'm very lucky to be in a place to make science useful now."
----------------------------------------------
To learn more about the research of Bing's scientific advisor, Jillian Buriak, click here and here.
To learn more about the research of Zhongyi's scientific advisor, Ryan Li, click here and here.
To keep up to date on energy research news, subscribe to our newsletter.