« Back to News
Searching for the secret of the 24-hour solar cell
Posted on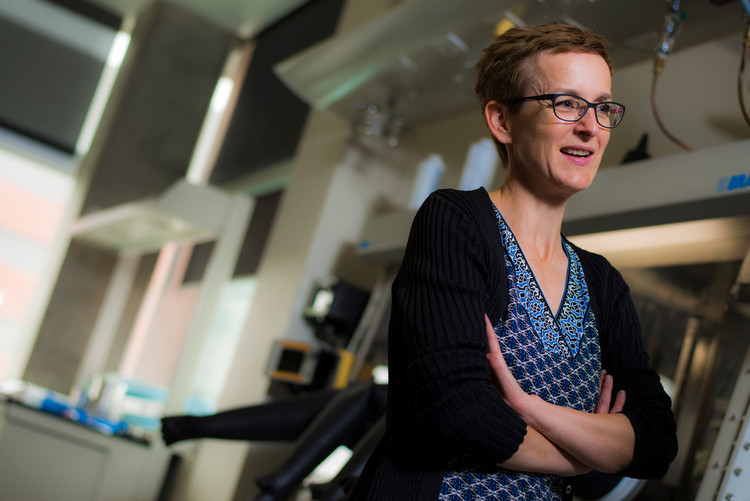 Chemists looking at wide variety of materials to power a low carbon world
By Jennifer Pascoe
In a race to unlock key ingredients needed to create the "24-hour solar cell," a University of Alberta chemist is exploring all sorts of materials to fuel this abundant and clean source of energy.
"There's a push for the 24-hour solar cell, where we can recoup the energy needed to make it in a day," said University of Alberta chemist Jillian Buriak, Canada Research Chair in Nanomaterials. "That's kind of a dream. Realistically, right now, we're looking at recouping that energy in the space of a few months."
The solar cells needed to power solar energy are traditionally composed of silicon, created from sand in an energy-intensive process. Individual cells can take two to four years to recoup the initial energy needed to create them, a far cry from a one-day turnaround.
"We have to look at the big picture, not just the materials inside the solar cell." —Jillian Buriak
Buriak and her research collaborators are exploring Earth-abundant alternatives to silicon--and the prospects look extremely sunny. She noted that part of the challenge to identifying alternative materials is the labour required to weed out materials that won't work.
Applications for AI
Enter Arthur Mar, fellow UAlberta chemist, who is applying artificial intelligence to screening upwards of a million materials to ideally land on 20 possibilities that Buriak and her research team can investigate over the next two to three years.
"I'm hoping to work on some crazy wacky Earth-abundant materials that people have never thought of before. We then have to design the synthetic strategies to translate these materials into something usable for this renewable energy source," continued Buriak.
In addition to alternatives to silicon, Buriak's group is looking for more flexible, lightweight materials that can be rolled on or spray-coated to a surface, noting that this will help decrease capital and labour costs during initial installation.
"We have to look at the big picture, not just the materials inside the solar cell," she said.
Buriak relayed her hopes for the future of solar energy in Canada, pointing to Germany, India, and China as examples of countries where solar is successfully and quickly overtaking nuclear power.
"We are massively underutilizing solar in Canada. Look at the southern prairies. We've got the best solar statistics in the country. It's just simple math. It's not a question of whether the transition to a low-carbon world is going to happen, it's a question of how fast--and it's faster than anyone thought."
"Renewable generation capacity has been growing at an incredible pace, driven in large part by the exponential decline in the cost of generating electricity from photovoltaics," said David Brown, assistant professor in the Department of Economics in the Faculty of Arts at the University of Alberta.
"The costs of solar voltaics are expected to continue to to decline. This puts the unsubsidized levelized cost of energy from utility-scale photovoltaics at or below natural gas generation in some jurisdictions."
Democratizing access to energy
Remote communities in Northern Canada, many of which have to truck or fly in their diesel fuel on ice roads, stand to be the biggest beneficiaries of advances in solar energy.
Buriak's research along with Brown's is being supported through the Future Energy Systems program, a seven-year research program at the University of Alberta, funded through the Government of Canada's Canada First Research Excellence Fund (CFREF). Future Energy Systems develops energy technologies of the near future, examines their integration into current infrastructure, and considers their social, economic, and environmental impacts.
This story originally appeared on the UAlberta Faculty of Science website. For more science news, click here.