« Back to News
A new chapter in an Alberta research partnership
Posted on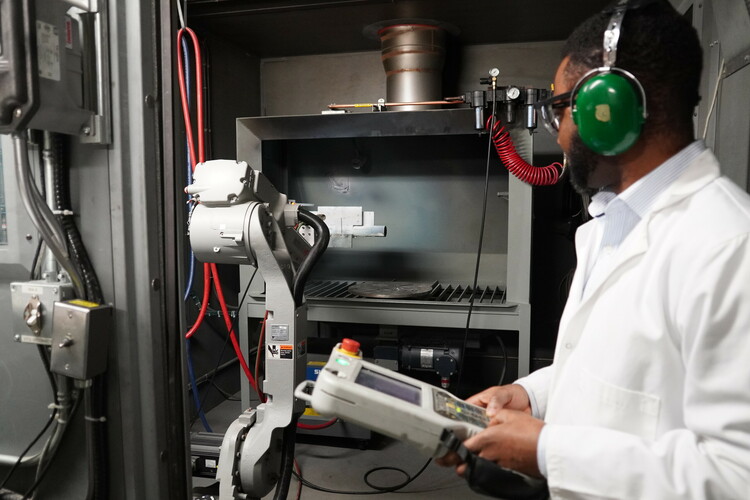 Since 2017, 12 research projects have been funded under the collaborative program between the University of Alberta's Future Energy Systems (FES) research initiative and the University of Calgary's Global Research Initiative in Sustainable Low Carbon Unconventional Resources (GRI). Last year saw the launch of a new Joint Research Booster Program, and two new collaborative projects are already moving forward.  
What makes the Booster Program special?
The program is uniquely designed to foster collaboration between the two Universities. Although neither researchers nor proposals are required to be currently affiliated with FES or GRI, research funded through the Booster Program must be clearly related to the objectives of both initiatives. Research teams are required to have at least one co-lead at each institution and their efforts should result in scientific publications, patents, accelerated commercialization, and highly qualified personnel (HQP) training. A joint committee screens proposals and finalizes decisions regarding funding.
The available funds are exclusively used for research and compensation, meaning that equipment with significant costs does not qualify. While researchers can receive a minimum of $100,000 per year for a minimum of a 2-year research project, recent recipients have secured up to $150,000, equally contributed from each institution. Close to $4 million in joint funding remains available.
Learn about the most recent successfully funded research projects below!
Project 1: Bio-based phase change materials and enhancing thermal properties
Lexuan Zhong, an Assistant Professor in Mechanical Engineering at UAlberta, will begin her next research project with FES in April. Her research explores phase change materials (PCMs) and their uses in increasing energy efficiency in buildings, thus leading to reduced energy consumption and decreased GHG emissions. Zhong is seeking to understand the most effective encapsulation material when it comes to manufacturing PCMs. Her team is focusing on material characterization, meaning she'll be conducting health risk analysis, computational fluid dynamics (CFD) analysis, and energy analysis.
The original project was not associated with FES or GRI prior to receiving funding from the Booster Fund. However, Zhong expanded her research to include thermal properties and has since qualified the project for FES funding. Her co-PIs from the UCalgary, Matthew Clarke and Hector De La Hoz Siegler, harness their expertise to assist with simulation and technical interpretation, and improve the overall heat transfer of the encapsulated PCM. Their research is expected to yield up to five peer-reviewed scholarly articles, up to four conference articles, and masters and PhD theses. 
Project 2: Multifunctional lightweight metallic coatings for sustainable energy generation systems in cold climates
It's no secret that Alberta's cold climate affects the performance of energy infrastructure. That's why UAlberta Mechanical Engineering Professor André McDonald is developing a high-strength, high-entropy alloy coating for wind turbines and oil and gas pipelines. The coatings are resistant to wear and erosion, and serve as heating elements to melt ice, potentially leading to wind turbine blades optimized for use under Canadian cold-climate conditions. McDonald will be conducting field tests on these lightweight coatings in remote Indigenous communities and off-shore locations. Their work with industry partner, Cenovus Energy, has already shown the efficacy of the coatings for melting ice in frozen pipes.
The UCalgary researchers collaborating on this project are Ahmed Tiyamiyu and Philip Egberts, who are lending their knowledge and expertise to develop the coatings for the anticipated purposes. The team will work with InnoTech Alberta and the International Pressure Equipment Integrity Association in Alberta to assess samples and conduct field tests with their alloy coatings.
How can my team apply for funding?
With up to $4 million available in funding, the Booster Program is still accepting applications. Successful applicants will be awarded funds on a first-come-first-served basis; however, there are specific eligibility criteria that must be met. Eligible researchers include those who have applied for, or intend to apply for, substantial research funds from major agencies, including but not limited to the following: Alberta Innovates, Emissions Reductions Alberta, National Research Council, Natural Resources Canada, PrairiesCan, or from industry or industry consortia that align with FES and GRI objectives. The proposed research must further energy systems research, although previously funded FES projects applying for funding must clearly demonstrate how they go above and beyond the previous scope of research. 
For the full criteria list, click here. 
If you are interested in submitting an application for research funding and your project meets the aforementioned criteria, please reach out to one of the individuals listed below.
Future Energy Systems at the University of Alberta
Dr. Anne Naeth, FES Director
Samuel Ferraz, FES Program Coordinator
Global Research Initiative in Sustainable Low Carbon Unconventional Resources at the University of Calgary
Dr. Ian Gates, GRI Director
Jessica Tink, GRI Manager