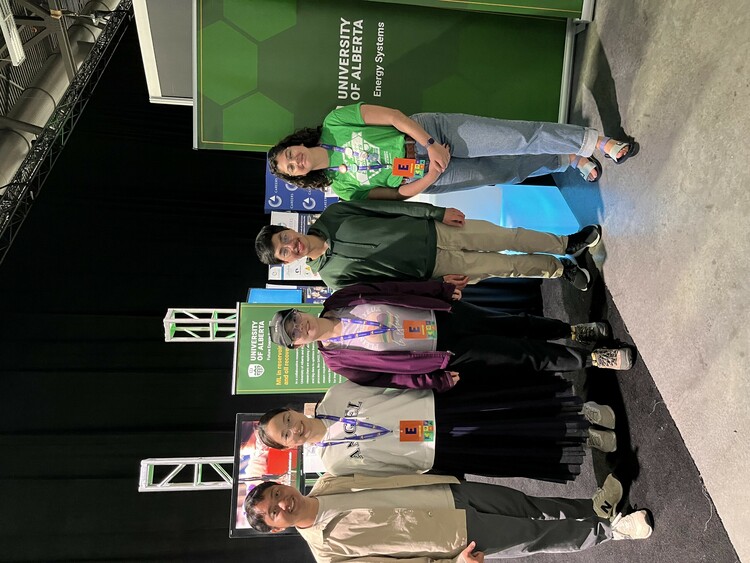 At Future Energy Systems, we support researchers who spend years dedicated to solving challenges that we face with current and future energy resources, technology, policy, and infrastructure. An important part of our mandate is to help make all those efforts accessible to people outside the university research environment, which is exactly why many of our researchers spent this past weekend at the Innovation Fair at K-Days.
Explore Edmonton, host organization of K-Days, announced that this year's fair welcomed over 557,000 people. The Innovation Zone was created to showcase leaders in innovation and technology across the Edmonton and Alberta region. Across the fair's 10-day run, organizations from across Edmonton and Alberta participated, from health to industrial to entrepreneurship.Future Energy Systems energy researchers took part as sustainability partners, participating in the final three days of the fair, July 28-30, 2023.
Among the attending FES researchers were Energy Explorers, graduate students who have completed our science communication training program. One Explorer, Kiera Greenaway even demonstrated her science communication skills and gave two public talks on the Innovation Stage about her research on microplastics. Both were a hit with kids and adults in the audiences, and with some of the other partner organizations participating in the Innovation Zone. The University of Alberta's EcoCar team—a student-ran group that developed a hydrogen-powered vehicle—also joined our researchers. Take a look at some photos from this weekend!
Future Energy Systems is dedicated to building knowledge, understanding, community, and skills related to energy research, science, and communication. Participating in outreach events like K-Days gives people from outside the academic environment a chance to engage with researchers and ask questions, and it helps our researchers sharpen necessary skills to communicate their research. Learn more about our work at Future Energy Systems here. If you're interested in keeping up to date with Future Energy Systems, subscribe to our monthly newsletter.
K-Days 2023