« Back to News
Using artificial intelligence and fuzzy logic to help plan the future of energy
Posted on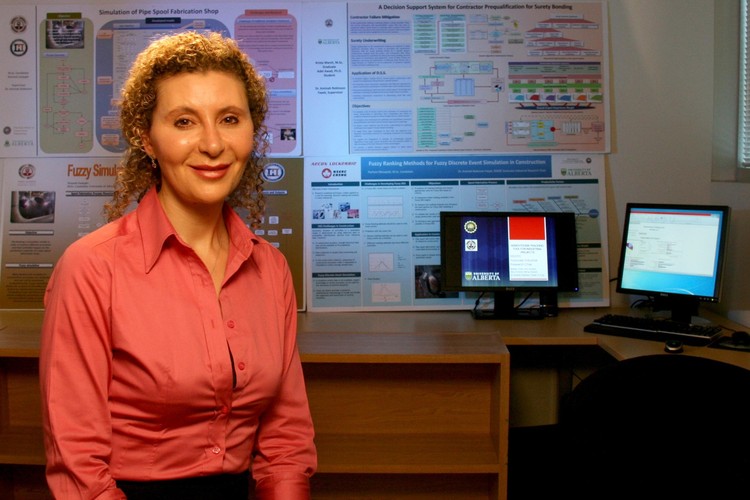 Aminah Robinson Fayek's research will help planners make informed decisions about the future of energy.

This week, Aminah Robinson Fayek was named the Canada Research Chair (CRC) in Fuzzy Hybrid System Decision Support for Systems for Construction. Fuzzy logic is an AI technique that represents expert knowledge and subjective reasoning mathematically, which she combines with other AI, machine learning and simulation techniques to create fuzzy hybrid techniques to enhance decision-making processes. For more information, on her CRC, click here.
By Mifi Purvis
"To harness energy sources effectively," says Aminah Robinson Fayek, "our focus is on how we design and construct facilities that allow us to extract energy, store it, and transport it to end users."
Fayek, a Faculty of Engineering professor who teaches construction engineering and management, is among a multidisciplinary group of researchers focusing on the construction, operation, and maintenance of facilities and infrastructure such as pipelines, solar energy facilities, and wind farms.
"We're looking at future energy sources and also current energy sources to make them more efficient and environmentally friendly."
Her focus is the non-electric side of infrastructure: "basically everything to do with energy before it goes on to the electric grid." In planning and executing projects, she wants to reduce risks and uncertainty and increase efficiency, cost effectiveness, and safety, while minimizing impact on the environment.
"With future energy systems we have new technologies with potential social, economic, environmental, and political impacts," she says. With unknowns, come risk and uncertainty.
The Approach
The challenge is twofold. First, the research team must define steps and processes for projects that have never been tried before. Second, they have to look for ways to improve decision-making in an environment of limited or non-existent data. When it comes to energy infrastructure, planning is everything.
"One of our first tasks is to come up with a taxonomy of what we mean by 'future energy systems infrastructure projects,'" she says. Next, the team will select a case study project type, such as a wind energy project, for example. Her group will look at all aspects of that project's lifecycle, and the risks involved in constructing, operating, and maintaining it. In the face of data limitations, the team is calling on artificial intelligence and Fayek's particular area of expertise, fuzzy logic. "We want to create artificial intelligence and simulation models to help in decision-making," Fayek says. Decisions could be related to cost, schedule, safety, environmental impact, productivity, efficiency, and stakeholder interactions.
"Then we can apply what we have learned to other types of projects," she says. "That's why the taxonomy is important. We can say, 'OK, now we'll address this aspect on this type of project.'"
As the team carries out this work, it will develop corresponding academic coursework with the potential to become a robust new research area. They will also develop a framework to assess the success of their research.
The Impact
Engineers and project managers must make similar types of decisions no matter what the construction project is: cost, schedule, quality, safety. "These decision processes are often replicable between projects," Fayek says. "But there will be characteristics unique to each project. But that's the intent—to say, 'We're going to demonstrate it on one type of future energy systems project and extend it to others.'"
The team will eventually be able to provide innovative processes and software tools for practitioners and stakeholders to better manage their future energy systems projects. "That means reducing costs and making sure that projects are predictable," Fayek says. "We hope this will achieve better competitiveness in Canada and help encourage investment in future energy systems.
"In construction, we collect a lot of data but every project is unique," she says. "It's not like manufacturing, where we're producing the same thing in a controlled environment." Experts still rely on their own expertise when they make decisions, but they want to access data to help improve those decisions.
The team's work is truly multidisciplinary, with UAlberta experts in simulation (Simaan AbouRizk), granular computing (Witold Pedrycz), and risk and reliability (Ming Zuo). Their work presents the possibility of commercialization of these technological tools, establishing regional expertise and encouraging investment in Canadian energy infrastructure. "It's a great opportunity—not just for our research team—but for future energy systems in general," Fayek says.

Robinson Fayek's team is part of the University of Alberta Future Energy Systems research initiative. Funded through a $75-million award from the Canada First Research Excellence Fund, Future Energy Systems has more than 30 projects over 14 energy-related research themes.
The original version of this story appeared on the UAlberta Faculty of Engineering website. For more engineering news, click here.