« Back to News
UAlberta awarded $75 million for energy research
Posted on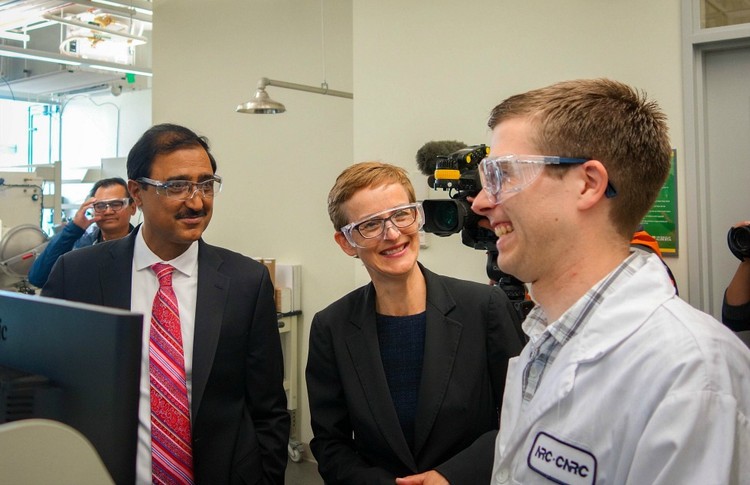 Government of Canada investment establishes the Future Energy Systems Research Institute
The University of Alberta will launch a new institute aimed at reducing the environmental footprint of fossil fuels and developing new low-carbon energy systems, thanks to a $75-million federal grant.
The U of A's Future Energy Systems Research Institute will bring together researchers across disciplines to improve energy systems related to unconventional hydrocarbon resources—tailings ponds, greenhouse emissions, water use, land reclamation, and safe, efficient energy transportation.
The institute will also build on U of A strengths in advanced materials, smart electrical grids and bioprocessing to help move Canada to a low-carbon energy economy.
The $75-million federal investment is part of the Canada First Research Excellence Fund to strategically invest in areas where post-secondary research institutions have a competitive advantage and can become global leaders.
"I thank the Government of Canada's historic investment in the Canada First Excellence Research Fund. This funding marks a major step forward for Canada and our collective ability to provide global leadership in response to a diverse set of grand challenges," said U of A President David Turpin.
Turpin said the Future Energy Systems Research Institute pushes Canadian energy and environment research "onto a new level."
"We will build on our broad historic strengths in these areas and spearhead provincial, national and international research partnerships and projects that envision and deliver solutions to the world's most urgent energy challenges—reducing the environmental footprint of today's energy system and making the transition to a cleaner, safer and more abundant low-carbon energy future."
Kirsty Duncan, Canada's minister of science, unveiled the latest round of investments Sept. 6 at the University of Waterloo. In total, the Government of Canada invested $900 million in 13 Canadian research universities.
"The Canada First Research Excellence Fund will equip Canada to respond to some of the most pressing issues it will face in the future: brain health, sustainable food and water supplies, environmental concerns, future energy supplies. The research supported through this fund will make the country stronger," Duncan said.
Low-cost solar on par with hydrocarbons
Jillian Buriak's work toward low-cost solar cells is the kind of innovative energy research that will benefit from $75 million in new federal funding announced today.
U of A chemistry professor Jillian Buriak represents the type of research innovator who could apply for funding through the new institute. Buriak is developing low-cost solar cells, including a version that uses a spray-coating technology.
Buriak said some estimates predict energy use by humans will double by 2050 and triple by 2100. The sun is the largest source of power we can access, and the cost of solar power is now on par with hydrocarbons, making it an increasingly viable alternative, she said.
"A clean, low-carbon source of plentiful energy is needed to maintain the social and economic security of humanity. From climate change to escalating conflict over energy and resources, our future is at risk unless we transition to a low-carbon future," said Buriak. "The Canada First Excellence Research Fund allows the University of Alberta to pioneer a made-in-Alberta solution to help solve the world's energy challenges, helping us to transition to a low-carbon economy.
"The U of A will work collaboratively with the University of Calgary, which also received $75 million for its Global Research Initiative in Low Carbon Unconventional Resources. The U of C's initiative aims to transform the extraction of unconventional energy resources such as the oilsands to improve efficiency and reduce Canada's carbon footprint.