« Back to News
This grad's economics degree will add up to better environmental policies in Canada and beyond
Posted on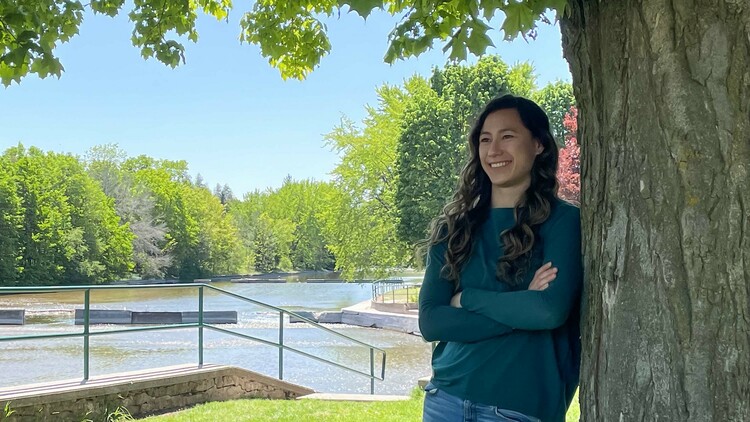 Meghan Lim loves both nature and numbers, and hopes that by combining those passions, she can help protect the planet.
With an eye to using her skills to support climate action, the newly minted economist graduates June 13 with a master of science in agricultural and resource economics — a degree she considers a perfect fit for her desire to make a difference through conservation and sustainable development.
"I found my niche in the interface of conservation and policy and dealing with numbers and statistics," Lim says about the program, offered through the Faculty of Agricultural, Life & Environmental Sciences (ALES). 
Lim's degree allowed her to tap into a deep fascination with the natural world she's had since she was a child, and feels compelled to honour.
Growing up, she learned about wild animals facing extinction, and other issues like pollution and climate change, gradually developing an appreciation for the idea of sustainability.
"There's such an inherent beauty in life on this planet. It comes in so many different forms — insects, mammals, birds, aquatic life — and it should be kept around for future generations," she says. 
"And as people, we rely on other living things for our own livelihoods. We can't grow food, drink clean water or have clean air without biodiverse life."
Along with that deep-rooted belief, Lim always loved playing with numbers, feeling a sense of satisfaction after puzzling over, then solving mathematical equations.
She came to realize that there is a power in numbers and statistics. 
"Being able to quantify what's happening in the world around us helps motivate a lot of policy. And being able to predict and measure program outcomes is essential for making effective policy."
Together, her interests added up to a career in resource economics.
"It gives us the tools to create policies that will help protect biodiversity and keep our air and water clean."
Impacts in agriculture, aviation and at home 
Her excitement for the field was fed by her master's thesis, which involved impact evaluation, a growing area of expertise that measures program effectiveness. 
Using her number-crunching skills, Lim worked with a global research partnership to measure the impact of a program aimed at helping farmers use climate-smart agricultural practices to improve their food security.
Lim's work helped reveal that the program did indeed improve household food security, while giving her the satisfaction of seeing her research support policy decisions and programs.
And while Lim's thesis studies had an impact on broad policies and programs on the other side of the world, she also did grassroots work as a U of A undergraduate student. 
While earning a bachelor of science in environmental and conservation sciences, she conducted economics research on aviation biofuels under the supervision of ALES professors Marty Luckert and Feng Qiu.
Lim also volunteered with the Green Spaces program offered by the university's Sustainability Council.
The program is aimed at making campus residences and working spaces more eco-friendly. For Lim, the hands-on experiences brought the meaning of sustainability closer to home.
"I felt I was having a direct impact on a local scale."
High-flying varsity athlete
Lim also rounded out her U of A experience as a varsity athlete, learning more life lessons along the way.
As a pole vaulter with the track and field team, she won several national medals and awards, including the university's Female Academic All-Canadian of the Year in 2017-18. 
Being a student-athlete "was one of the best parts of my university experience," she says. "I was part of something bigger than myself, because I knew my accomplishments were going towards the team."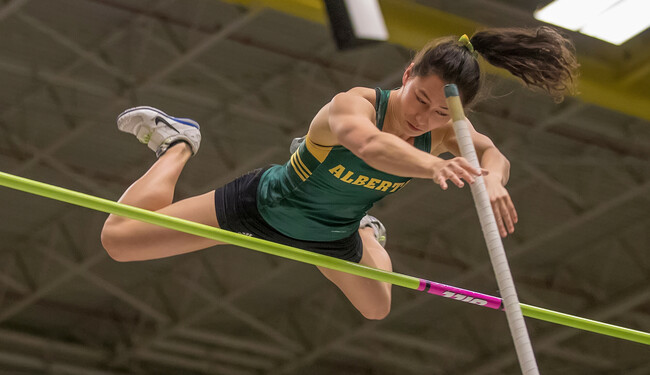 Along with lasting friendships and a sense of community, Lim says she came away knowing the value of "having balance in my life. It's good to be able to step away from work, to have a completely different outlet."
Being an athlete also taught her how to handle setbacks, she adds.
"I was injured a lot, so I had to learn to take a step back from the sport and refocus on what I could still do to move forward — that kind of lesson translates well into general life."
Sights set on global change
Now working for Natural Resources Canada, Lim is doing just what she hoped, using her skills as an economist to answer questions to help develop climate-driven policy, particularly around helping Canada reach its pledge of net-zero emissions by 2050. 
"I feel that is something Canadians can be really proud of — that our country has made these commitments to the international community. And my work being even a small part of helping us fulfill them is really awesome."
Ultimately, Lim hopes to turn her skills to international conservation work, particularly for vulnerable ecological systems such as rainforests.
"Some of the most biodiverse places on the planet are also the most threatened. I'd like to help bring international communities together to face the collective issues of climate change and biodiversity loss, whether that's through policy work or research, through the Canadian government, an intergovernmental organization like the United Nations, or an NGO.
"There are a lot of different ways to help out."
Check out one of her research presentations below:
Lim was supported in her graduate studies by the CGIAR Research Program on Climate Change, Agriculture and Food Security, the Social Sciences and Humanities Research Council, the Eldon Foote Excellence in Track & Field Award and in her undergraduate studies by the Eldon Foote Track and Field Scholarship.
This story originally appeared on Folio. Read the original version here.