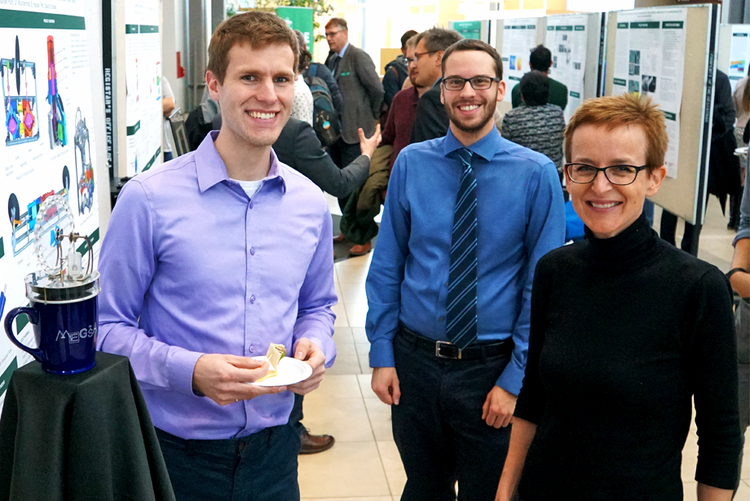 In January we will begin profiling the Highly Qualified Personnel at the heart of the Future Energy Systems program
When you ask Jillian Buriak why she began her world-class solar energy research program, her answer is immediate: "My students."
During September's Future of Energy Conference, she shared the story of how undergraduates came to her seeking renewable energy research opportunities back in 2006 –– long before such research was considered fashionable –– and how students continue to be one of the most important sources of inspiration for her work.
You can listen to her full story here:
Buriak is now the Future Energy Systems solar theme leader and a Principal Investigator within the program, and her perspective on the importance of students is not unique. Among the executive team and the researchers there is total agreement: the first priority for Future Energy Systems is to create opportunities for students.
Over seven years, this program aims to engage up to 1,000 Highly Qualified Personnel (HQP) –– a research term that refers to Masters and PhD students, Post-Doctoral Fellows and other developing research personnel. You can view all current Future Energy Systems HQP by visiting the Researcher Directory.
In January we will begin profiling HQP from projects across the research program. Some hail from Canada while others come to the University of Alberta from points around the world. Each of these individuals will incorporate unique knowledge and experience into his or her work, and share diverse perspectives with her or his peers. All of these HQP will be central to Future Energy Systems' world-class research, and will collectively become the program's most important legacy.
As Buriak explains when she's asked what 'products' universities create: "Our single biggest 'product' is our students. These are students who are highly educated, very excited, and I don't care about what people say about millennials: they are completely positive, very concerned about the future they are inheriting."
Stay tuned to this website for HQP profiles beginning in January 2018.