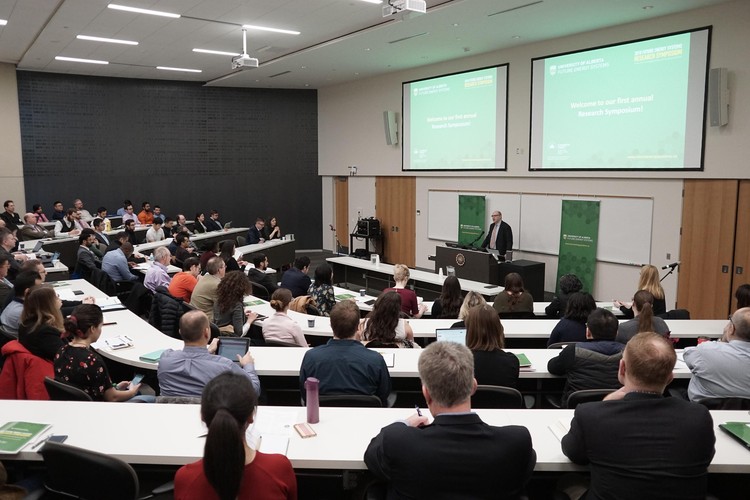 More than 200 people participated in the first annual Future Energy Systems Research Symposium
Yesterday Future Energy Systems celebrated its first full year of research with its 2018 Research Symposium. Click here for program details and presenter photos.
This event brought together investigators and graduate students from 56 projects across 14 themes and seven University of Alberta faculties to explore work done since the program's first projects were launched last June. Thanks to a hugely enthusiastic response from both the Future Energy Systems research community and external guests, every session was standing room only.
Twenty research presentations were made by graduate students, along with twelve three-minute pitches and 67 research poster presentations. The event showcased the wide diversity of the Future Energy Systems program, uniting economists, social scientists, humanities scholars, scientists and engineers to explore different aspects of humanity's energy future.
University of Alberta President David Turpin opened the event, Vice-President (Facilities and Operations) Andrew Sharman delivered a keynote address outlining the institution's long-term sustainability efforts, and interim Vice-President (Research) Walter Dixon presented awards at the closing reception.
External guests included the British Consul General, researchers from Imperial College London, the London School of Economics, and the University of Utah, and representatives from the Government of Alberta, Alberta Innovates, and the Alberta Energy Regulator.
The next major Future Energy Systems research event will take place in the fall of 2018. For the latest information on the program's research, click here.
2018 Future Energy Systems Research Symposium Award Winners
Best Presentations
Muhammad Arshad
Daniel May

Best Pitchers
Stephanie Ibsen
Calynn Stumpf

Best Posters
Lawrence Adutwum
Dawit Beyene
Michael Moore
Gallery - 2018 Future Energy Systems Research Symposium