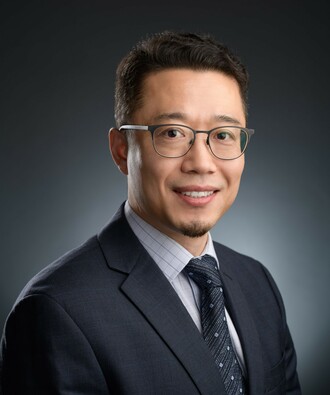 Engineering professor Ryan Li is among 13 U of A researchers on the latest list of the world's most highly cited in their fields.
Renewable energy systems like solar and wind power are increasingly becoming part of Canada's power grid, but making that a smooth transition is a challenge.
One of the issues is voltage conversion — making sure the outputs of renewable energy or energy storage systems are compatible with today's electrical grid. The same process needs to be done for charging electric vehicles, as well.
It's a high-interest area that "is getting a lot more demand for performance," says Ryan Li, a professor of electrical and computer engineering in the University of Alberta's Faculty of Engineering.
"We need new technologies in this area because of a rapid increase of renewable energy deployment globally."
The innovative work being done in Li's Elite Grid Research Lab is leading the way, focusing on developing key technologies and training highly qualified personnel to equip Canada's next-generation electrical grids to use renewable energy, handle more efficient loads, improve the efficiency of grid structure and make operations more reliable.
The work has also helped Li be named to Clarivate's 2022 Highly Cited Researchers list. Li, a Future Energy Systems researcher at the U of A, also made the list in 2019 and 2020.
The list identifies authors of multiple papers ranking in the top one per cent in the world by citations for their field and publication year over the last decade, demonstrating significant influence among their peers.
As Li and his colleagues work to address the voltage conversion issue, they are also looking to the future, with plans to develop a hybrid grid structure that can easily integrate different types of renewable energy, storage and modern loads. They also want to develop a more resilient grid to withstand the effects of climate change, such as blackouts caused by floods or wildfires.
A second engineering professor, computational intelligence expert Witold Pedrycz, also made the list of highly cited researchers, demonstrating the impact of the work being done within the Department of Electrical & Computer Engineering, noted Li, who is interim chair.
"Being on the list recognizes the impact the research has not just locally, but globally."
Also joining Li, who has been cited more than 11,000 times since 2017 according to Google Scholar, on the list are Faculty of Science genetics researcher Gane Wong, Faculty of Agricultural, Life & Environmental Sciences food microbiologist Michael Gänzle, Faculty of Kinesiology, Sport, and Recreation physical activity researchers John Spence and Valerie Carson, and computational biology professor David Wishart, whose work has been cited nearly 100,000 times since 1986.
Also on the list from the Wishart Research Group are research associate An Chi Guo; previous members Craig Knox and Michael Wilson, bioinformatics specialists who co-founded the startup company DrugBank; bioinformaticians Allison Pon, a software developer for Drugbank, and David Arndt, who now works with The Metabolomics Innovation Centre; and PhD candidate Yannick Djoumbou.
"The researchers on this list lead advancements at the University of Alberta across key sectors for Alberta, Canada and on the world stage," says Aminah Robinson Fayek, U of A vice-president of research and innovation. "Through their work, they're demonstrating the many ways in which we are engaged in solving some of the most pressing challenges today and for future generations."
All told, Canadian universities had 226 researchers on the list to sit sixth in the world. The United States is the institutional home for 2,764 of the highly cited researchers in 2022, followed by Mainland China (1,169 researchers) and the United Kingdom (579).
Earlier this fall, the U of A moved up in the U.S. News 2022-23 Best Global Universities Rankings, climbing to fourth in Canada and ranking among the world's top 100 in 16 subjects. Gastroenterology and hepatology remained the U of A's strongest subject in the U.S. News ranking for a second year, ranking third in Canada and 33rd in the world. Agricultural sciences, another consistent area of strength, rose substantially in the U.S. News rankings, climbing from 58th in 2021 to 38th this year, with food science and technology ranked 48th.
Several other subjects within the College of Natural and Applied Sciences were ranked among the top 100 in the world, including artificial intelligence (52nd), plant and animal science (76th), mechanical engineering (77th) and polymer science (99th), with tied rankings in engineering (85th), environment/ecology (75th), geosciences (97th) and computer science (100th).
The U of A also saw three social sciences and humanities programs make significant gains in the Times Higher Education 2023 Subject Rankings. There was a notable rise in education, law and social sciences, all housed within the College of Social Sciences and Humanities. The institution rose into the top 100 in the law subject category, a considerable jump from last year's 151-175th ranking. It also entered the top five nationally in social sciences, moving from 251-300th internationally into the 151-175th range.
The U of A's world-leading expertise in a diverse range of subjects has been acknowledged by several other academic rankings this year. It was ranked as the best institution in Canada to study nursing and engineering in the latest QS World University Rankings by Subject, and placed first nationally in business administration according to the Global Ranking of Academic Subjects.