« Back to News
Renewable energy projects must benefit the people who live next to them
Posted on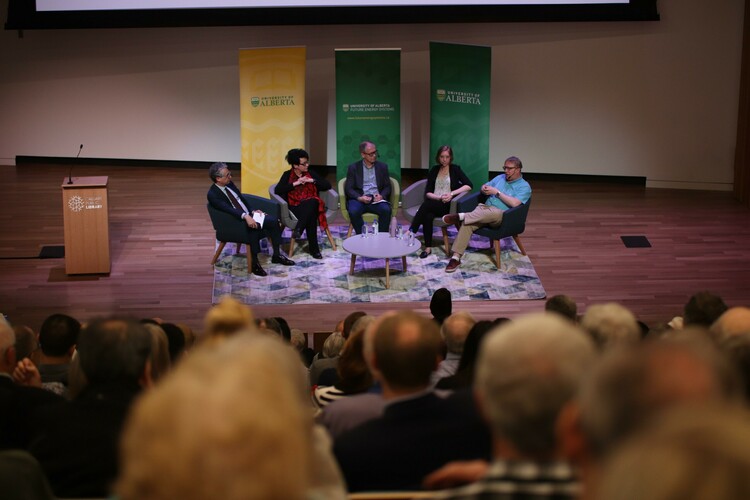 U of A researchers discuss options for Alberta's energy future at sold-out Calgary Central Library event
Renewable energy projects must be designed to benefit communities or they may struggle to be successful, according to four University of Alberta energy researchers who participated in a panel discussion at the Calgary Public Library last week.
John Parkins, a U of A environmental sociologist, told the 300-person audience that a 2014 survey of Canadians showed that wind ranked as the second most popular type of energy, behind only solar. However, he recently conducted a survey of 400 Alberta agricultural producers. It revealed that within this group, wind projects are less popular than any form of energy except nuclear.
"We can't just dismiss this resistance as NIMBY-ism," he said. "This tells us we need to design renewable energy projects that are beneficial to the people who live with them every day, not just the end-users."
Maggie Cascadden, a PhD student at the U of A School of Business, is currently developing engagement frameworks to support projects like engineered wetlands for water decontamination.
She identified effective consultation between businesses and communities as an important tool to establishing benefit.
"Research shows that businesses that meaningfully engage with communities and stakeholders are more successful and have better outcomes," she said. "Projects are less fragile when the community is on board, so community engagement can make energy projects less risky."
New renewable energy technologies can also offer new benefits to communities, according to U of A chemist Steve Bergens.
He explained his lab's work on creating fuels using captured carbon dioxide, water and sunlight––a new take on storing solar energy that could eliminate emissions while still leveraging existing natural gas structure.
When asked how this technology could get from the lab bench to the real world, he highlighted the importance of contact with industry.
"Climate change is a global challenge and we all need to work together to deal with CO2," he said. "But industry can't just drop everything and start fresh when a scientist shows up with a new idea, so we need to work together from an early stage to get onto the same page."
Bergens, Cascadden and Parkins emphasized the importance of facilitating conversations between people on different sides of the polarized conversation about energy transition, including researchers, businesses, and the public––which was the purpose of the panel discussion.
The event was moderated by Calgary energy economist Peter Tertzakian and hosted in partnership by the Calgary Public Library and the University of Alberta, which recently launched an Energy Systems signature area of research and teaching.
"Events like these are an important part of our commitment to bring our energy research expertise to the public, the facilitate conversations about energy transition," said Anne Naeth, Director of the signature area who also joined the panel. "We look forward to providing platforms like this for more of our researchers in the months ahead."
Powering Alberta's Energy Future - Gallery
This event took place on Wednesday, May 22, 2019 at the Calgary Central Library.