Home

/

Starting From Scratch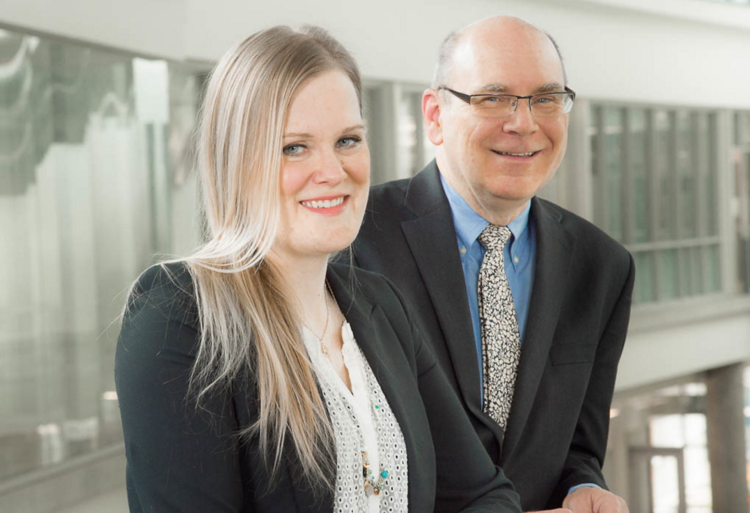 In September of 2016, the Government of Canada awarded the University of Alberta with $75 million for research that will help transition Canada to more sustainable, low-carbon energy systems in the near future. This was the largest single investment of research funding in the U of A's history –– and no processes existed to turn the government's commitment into actual research projects.
How do you start from scratch when building a program that will eventually support dozens of projects, 100 researchers, and as many as 1,000 highly qualified personnel? According to Jennifer Morrison, contracts specialist in the Research Services Office, and Larry Kostiuk, director of the new Future Energy Systems (FES) program, you communicate often, and cooperate closely as you track down all the answers you need.
Morrison and Kostiuk worked cohesively together to establish the FES program, allowing it to exist within the U of A's framework while still meeting all obligations to federal government's Canada First Research Excellence Fund (CFREF).
"Projects under the FES program focus on unconventional sources of energy like biomass, geothermal, solar and wind, as well as smart grid operations and energy storage technologies," explains Kostiuk, who is also an associate vice-president of research.
"The program brings together researchers from across the U of A, and also devotes attention to environmental impacts on land, water and air, and the social and economic consequences of changing the energy system."
In November 2016, shortly after the federal commitment was announced, Morrison began working on the funding agreement between the government and the university. The final document was signed just four months later, in February 2017. 
"Between the time funding is announced and our researchers get their speed codes, there is a huge amount of work," she elaborates. "When Canadian taxpayer dollars are involved, we have a responsibility to manage them wisely. The U of A has a robust research infrastructure dedicated to this, so it's a matter of coordinating our methods with the government's requirements, sorting out the legal language, and then getting the paperwork signed."
As an experienced researcher and former department chair, Kostiuk knows such processes can take a long time, but thanks to good collaboration between Morrison and the Office of the Vice-President Office (VPR), FES happened quite rapidly.
"Dr. Kostiuk was really great with always keeping in contact. Whenever I had a question, he was quick to answer," says Morrison. "Because it is a new award, there were many new rules to go through. I was regularly asking the CFREF program officers questions and passing the new information onto the FES and VPR offices."
Kostiuk appreciated her promptness: "It was a considerable challenge to meet the CFREF timelines for spending the money, and to make sure funding was available so researchers could hire graduate students for the fall of 2017. But we made it."
Morrison is now helping navigate more than 40 new FES research projects from six faculties through the funding process, "We have to make sure that any approved FES project aligns with the original CFREF agreement because they have a lot of different reporting rules about the ways the money can be spent."
Working with experts like Morrison will continue to be essential for Future Energy Systems, but the benefits of her efforts in building the program structure from scratch are already being appreciated. 
"Jennifer helped our team understand the constraints of the funding, and created processes to ensure compliance with minimal bureaucracy for everyone," Kostiuk concludes. "As a result, we're already seeing new graduate students coming to campus, and lab work underway. Which reminds me: thanks Jennifer."