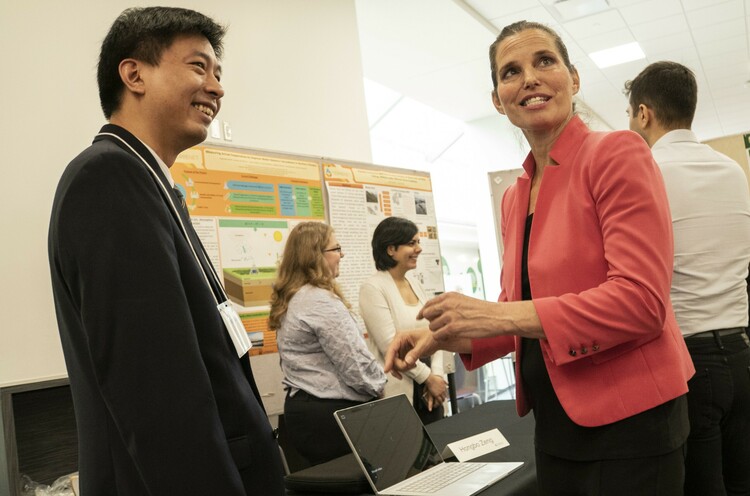 Future Energy Systems researcher and Canada Research Chair Hongbo Zeng receives new CFI funding for interfacial properties research
The forces at work when the surfaces of two molecules meet will be better understood thanks in part to a $210,000 Canada Foundation for Innovation (CFI) award for Future Energy Systems Principal Investigator Hongbo Zeng. Minister of Science and Sport Kirsty Duncan announced the support as part of more than $2.2 million in federal government funding for ten University of Alberta research projects with topics ranging from fetal health to forest fire emissions.
Zeng, who holds the Canada Research Chair in Intermolecular Forces and Interfacial Science, studies polymers at the molecular level, examining their surfaces in order to understand how they interact with different types of particles. His lab also customizes polymers for new engineering and bioengineering applications. 
Within Future Energy Systems, Zeng's work focuses on properties of asphaltenes in bitumen flows –– contaminants that can increase refining costs. However, his fundamental research extends far beyond oil sands applications. By studying the surfaces of polymers at a molecular scale, his group is contributing to a new understanding of why different molecules interact when they interface –– for instance, sticking to each other.
"It is difficult to shake hands with someone if you both offer closed fists," Zeng explained during an interview in 2017. "You can think of the surface or functional group of a molecule of a molecule like a hand, and we search for molecules that have compatible open hands so they can hold onto each other."
There are numerous potential applications for this fundamental knowledge, from creating polymers that can bind to contaminants in tailings pond water, to refining new gel-like materials that can conduct electricity and provide useful electrical feedback when stretched. New polymers can even be created to safely release drugs over an extended period of time once injected into a patient's blood stream or tissues. 
"Many researchers have observed the way in which molecules interact with each other, but with the instruments supported by the funding announced today, we can expand our study into why these interactions take place," Zeng explains.
With $210,000 in funding from CFI and more than $350,000 from other partners, Zeng's lab will bring three new pieces of diagnostic equipment to the University of Alberta. These tools will allow him, his graduate students, and post-doctoral fellows to observe the surface properties or certain molecules in real time, without needing to destroy them for the purpose of the study.
"Instead of spending days suspending samples in resin to see one snapshot of how a molecule's surface appears, we will be able to watch interactions in real time, in situ," he explains. "This will increase the speed of our research, and make new discoveries possible." 
The new equipment will also be available for use by other University of Alberta research groups, ensuring that the benefits of the CFI investment are enjoyed throughout the faculties of Engineering and Science.
Zeng and his research group are key contributors to three Future Energy Systems research projects. To learn more about his work click here. Congratulations to Zeng and the other University of Alberta CFI funding recipients!