« Back to News
New Canada Research Chairs use technology to build a leaner, greener global future
Posted on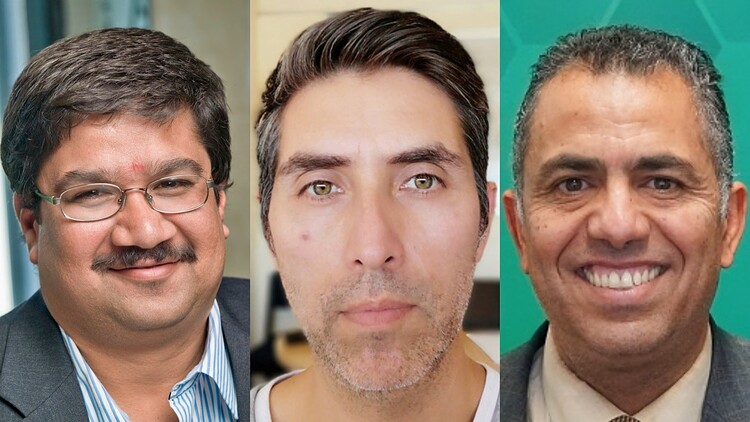 Twelve outstanding scholars at the University of Alberta are receiving one of Canada's most prestigious academic honours — the Canada Research Chair — to advance their research programs focused on building a leaner, greener future.
Since 2000, the Canada Research Chairs program has been attracting and retaining some of the world's most accomplished researchers in engineering, the natural sciences, health sciences, humanities and social sciences, with an investment of up to $311 million per year.
Three U of A professors — Amit Kumar, Vicente Gonzalez and Mohamed Gamal El-Din — have been named as new Tier 1 Chairs and will receive $200,000 per year for seven years. 
The latest names were added to the list as part of a $960-million federal funding announcement made at the U of A this week, supporting innovative work by more than 4,700 researchers across Canada.
The future of energy
Amit Kumar, professor of mechanical engineering in the Faculty of Engineering and deputy director of the U of A's Future Energy Systems, is now Tier 1 Canada Research Chair in Assessment of Energy Systems.
"The goal of my research is to develop information which can be used for energy decision-making and policy development," explains Kumar, who is also the NSERC/Cenovus/Alberta Innovates Associate Industrial Research Chair in Energy and Environmental Systems Engineering.
Kumar's team assesses cost, environmental impacts and resource availability to fully understand energy systems, identifying how to integrate renewable sources such as biomass, solar and wind, along with technologies like carbon capture, utilization and storage, and improve overall system efficiency. The goal is to inform global efforts to reduce greenhouse gas emissions.
For example, the team contributed to Alberta's Hydrogen Roadmap, a plan for the province to become a global supplier of clean, low-cost hydrogen in a worldwide market estimated to be worth more than $2.5 trillion a year by 2050.
The Kumar team's research has been used by industry, municipal, provincial and federal governments to make energy decisions.
One of the most satisfying parts of the work has been training more than 200 young engineers from 30 countries who are now greening energy systems around the world, Kumar says.
"Climate change poses a critical challenge for the young generation; they have to live through it and adapt," he says. "They will have to find innovative energy solutions that have low environmental greenhouse footprints and can help fight climate change at an accelerated pace for the global community."
"You should dream and always follow your dream," Kumar advises his trainees. "When I started as a faculty member (15 years ago), there was hardly any talk on the concept of energy systems. Now everyone talks about it and it is a key focus globally."
The future of construction
Vicente Gonzalez, professor of civil and environmental engineering in the Faculty of Engineering, is the new Tier 1 Canada Research Chair in Digital Lean Construction.
His research program aims to bring the same cost savings and improvements that have been made in manufacturing to the construction industry by following "lean" principles and integrating digital technology.
Construction has been slower to adopt these tools because unlike manufacturing, which establishes permanent and large facilities, each construction project is new and unique so the wheel has to be reinvented, explains Gonzalez, who is a faculty member within the Hole School of Construction Engineering.
Lean theory aims to reduce costs, materials, time and effort. Gonzalez's system will pair it with a tool that allows construction teams to create a digital twin — or virtual model — of their physical project, with sensors that update the model in real time.
This means users can monitor operations and simulate future scenarios. For example, the application could be used to provide virtual reality occupational health and safety training for workers.
"What excites me about this research is that it is not technology-centric or process-centric," Gonzalez says. "It has a holistic perspective that makes sense not only to researchers, but to practitioners and those who will be the end-users of the solutions developed."
Gonzalez, a co-editor of Lean Construction 4.0, says it's really all about changing behaviour. His goal is to improve working conditions, use fewer resources and help the construction industry become more resilient to unexpected events such as the COVID-19 pandemic.
"This project will focus on some aspects of sustainability such as minimizing material waste and other pollutants, and decreasing energy and water consumption," he says. "But it will also focus on the behavioural aspects that make people more prone to use the methods developed."
The future of water
Mohamed Gamal El-Din, professor of civil and environmental engineering in the Faculty of Engineering, is the new Tier 1 Canada Research Chair in Sustainable and Resilient Wastewater Treatment for Reuse.
The long-term goal of Gamal El-Din's research program is a "circular water system," where everything — including the waste and the water — from industrial and municipal wastewater streams gets cleaned, separated and reused in a constant and sustainable cycle.
The problem is that most conventional wastewater systems in use right now aren't up to the task, because they don't remove all contaminants. Better systems exist but they are costly and hard to implement in remote and small communities.
That's where Gamal El-Din's interdisciplinary team comes in.
"Our program addresses wastewater reuse issues from a holistic perspective, combining engineering, environment, science and social aspects," says Gamal El-Din, who is also Industrial Research Chair in Oil Sands Tailings Water Treatment from the Natural Sciences and Engineering Research Council of Canada and director of the U of A's new Water Research Centre.
"Our objective is to develop effective, integrated and low-energy treatment strategies for municipal and industrial wastewater reuse," Gamal El-Din says.
The team is on the hunt for both new and repurposed technology. For example, they found they can efficiently remove naphthenic acids, one of the main contaminants in oilsands process water, by repurposing a method originally used to clean pharmaceutical waste.
"Through interdisciplinary research and multisector collaborations, we aim to achieve safe, sustainable and resilient circular water systems," Gamal El-Din says.
Three new Tier 2 Canada Research Chairs
Kumar, Gonzalez and Gamal El-Din are joined by three new U of A researchers with Tier 2 Canada Research Chair appointments. Tier 2 chairs are for five years and can be renewed once. They receive $120,000 per year for their research programs.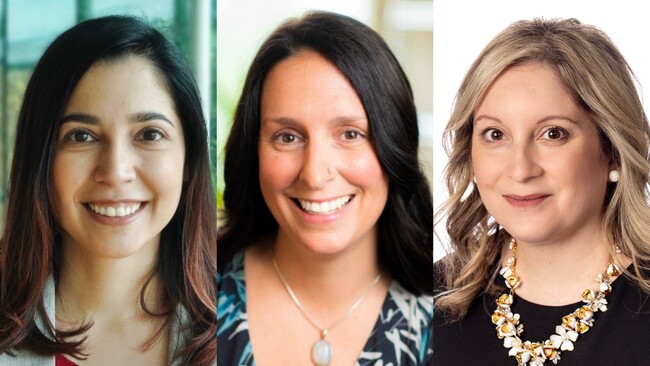 Nassim Bozorgnia, Tier 2 Canada Research Chair in Astroparticle Physics, is an assistant professor of physics in the Faculty of Science and a member of the Theoretical Physics Institute. Bozorgnia's research program studies dark matter particles, which are thought to make up 85 per cent of the matter content of the universe. They can't be seen directly because they do not absorb, reflect or emit light, so the team studies cosmological simulations, as well as direct or indirect methods of detecting and characterizing the particles.
Lauren Guillette, Tier 2 Canada Research Chair in Cognitive Ecology, is an assistant professor of psychology in the Faculty of Science. Guillette's Animal Cognition Research Group tests how learning and cognitive abilities allow animals to solve problems they face in the wild. They study the foraging and nest-building behaviour of songbirds such as zebra finches and black-capped chickadees. They use both empirical and theoretical approaches and integrate work from the field and laboratory.
Stephanie Montesanti, Tier 2 Canada Research Chair in Health System Integration, is an associate professor in the School of Public Health. The goal of this part of Montesanti's research program is to make sure people who experience domestic violence have access to the right care, when and where they need it. Women and children account for two-thirds of all individuals affected by family violence in Canada, according to Statistics Canada, and exposure to family violence in children can result in social, behavioural, emotional and cognitive problems. Indigenous women are disproportionately affected by family violence in Canada and face additional barriers to seeking help. Montesanti's team is designing, delivering and evaluating models of care that address family violence within primary health care settings such as family doctors' offices and local clinics. They are also using local, real-time data about the prevalence of reported incidents of family violence and help-seeking behaviour to better co-ordinate care for affected families.
Six renewed or upgraded Canada Research Chairs
The new chairs are also joined by six U of A researchers whose chair appointments were renewed or advanced from Tier 2 to Tier 1:
Yang Liu, Canada Research Chair in Future Water Services (Tier 1 advancement), is a professor of civil and environmental engineering in the Faculty of Engineering and Industrial Research Chair in Sustainable Urban Water Development funded by the Natural Sciences and Engineering Research Council of Canada. The Liu Research Group is working to improve urban wastewater treatment in Canada by developing innovative bioreactors that recover nutrients and energy from direct black water (for example, from toilets and kitchens) and grey water (from showers and sinks), as well as wastewater collected from municipal sewage systems. 
Dennis Hall, Canada Research Chair in Boron Chemistry for Catalysis and Drug Discovery (Tier 1 renewal), is a professor of chemistry in the Faculty of Science whose research is focused on boron, an element that is found in several mined minerals and is used for everything from cleaning products to fibreglass and insecticides. The Hall Laboratory studies organic boron compounds to take advantage of their unique properties, designing catalysts used to transform chemicals in pharmaceutical science and creating new molecules to assist in developing new drug candidates against infectious diseases.
Hao Liang, Canada Research Chair in Intelligent Energy Systems (Tier 2 renewal) is an associate professor of electrical and computer engineering in the Faculty of Engineering. The goal of Liang's research is to leverage advanced information technology and computational tools such as deep reinforcement learning and quantum computing to make Canada's future energy systems more efficient and resilient.
Kimberley Mathot, Canada Research Chair in Integrative Ecology (Tier 2 renewal), is an associate professor of biological sciences in the Faculty of Science. Mathot's research program aims to provide critical insights into the ability of individuals and populations to respond to changing environmental conditions. The team studies how animals and birds make decisions when faced with uncertainty about their surrounding environment as they make choices such as where to breed or how long to forage.
Sarah Nadi, Canada Research Chair in Software Reuse (Tier 2 renewal), is an associate professor of computing science in the Faculty of Science. Software libraries provide developers with a toolbox of high-quality programs to use as building blocks for new programs. But the libraries are complex and often poorly documented, so developers often use them incorrectly, leading to bugs and security vulnerabilities that can be serious and costly. Nadi aims to make it easier, faster and safer for these libraries to be used properly.
Tony Z.Qiu, Canada Research Chair in Cooperative Transportation Systems (Tier 2 renewal), is a professor of civil and environmental engineering in the Faculty of Engineering. Qiu's team is developing the roadways of tomorrow with wireless communications systems that will allow vehicles to "talk" directly with each other as well as roadway features such as traffic lights, cameras and other infrastructure units. The goal is to improve road safety and efficiency by helping drivers make better real-time decisions.
This story originally appeared on Folio. Read the original version here.