« Back to News
Inviting diversity can improve research outcomes
Posted on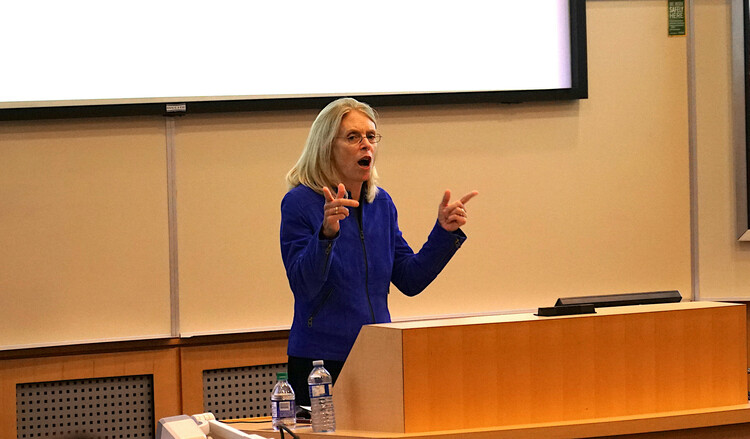 Gendered Innovations founder Dr. Londa Schiebinger visits the University of Alberta for an event co-hosted by the Energy Systems signature area
How much innovation is lost when we only consider half the population as 'standard'? That's a central question in Gendered Innovations, an emerging field of research that helps examine the role women have played in the history of science and innovation. 
Last week, the University of Alberta hosted Dr. Londa Schiebinger, John Hinds Professor of History of Science at Stanford, whose role as Director of the EU/US Gendered Innovations in Science, Medicine, Engineering, and Environment Project, positions her as an authority on the topic. 
The goal of Gendered Innovations is to examine gender and sex as crucial variables that add dimension to research, and aid in innovation and scientific discovery. The project aims to generate practical sex and gender analysis methodology for researchers, and provide case studies illustrating how and why this leads to greater innovation. 
With equity, diversity, and inclusion (EDI) becoming increasingly demanded in academia and beyond, it's a timely juncture to discuss the role of gender and sex in research –– both the historical ramifications of inequality and the opportunities inherent to a more inclusive research environment. The landscape of energy systems research crosses many fields, including some in which gender representation among researchers remains a serious concern. This is why the Energy Systems Signature Area partnered with the Intersections of Gender Signature Area to co-sponsor the visit, aiming to support inclusivity and accelerate innovation.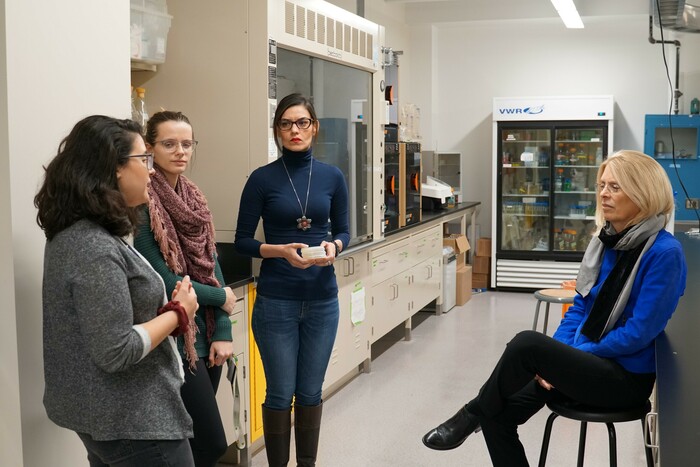 While on campus, Dr. Schiebinger visited the lab of Future Energy Systems researcher Dr. Dominic Sauvageau, meeting with HQP Beatriz Pacheco, Miranda Stahn, and Ana Arvizu. 
In her lecture and workshop, Dr. Schiebinger outlined many areas of research that benefit from considering sex and gender as a variable. Medicine is an obvious one. Amongst many possible examples, Schiebinger quoted a study that demonstrates that sex-matching of stem cells between donor and recipient strongly affects viability. 
But the future, Dr. Schiebinger argued, will be even more strongly affected by sex and gender. Machine learning, a form of artificial intelligence, allows computers to use patterns and inference from those patterns to perform specific tasks, using algorithms and models rather than specific instruction by the operator. It relies on computers to learn from pre-existence sets of data.
What happens if the data are inherently biased? Dr. Schiebinger told the story of a Google Translate function that, in using machine learning to translate a news story about one of her lectures from Spanish to English, automatically assigned her the pronoun 'him'. The reason was simple: the internet –– the data set Google had access to –– contained more uses of the male pronoun than the female.
Dr. Schiebinger's talk pointed out that this kind of bias will be an ongoing problem in the future of computing and many other fields that have typically been built around the assumption of a default 'male' user or subject. More proactively, she argued that it is what arises when sex and gender are not considered from the conception of new innovation.
In her experience, companies are getting onboard with the new status quo of increasing focus on EDI. She noted that Google came to the table to fix the translation error, and other companies are taking advantage of the plethora of material available on the Gendered Innovations website. 
While this is certainly positive, Dr. Schiebinger stresses that experimental design and innovation will only move forward by considering gender and sex from the ground up. In her talk, she suggested that research that does not control for these variables is wasteful. 
Even the sex of the researcher can play a role, she pointed out, citing a study that found rats show pain less often when observed by male researchers than female. In such a case, reporting the sex of the researcher could be critical to understanding results. Such a discovery could require entire fields to rethink their methodologies to incorporate careful consideration of gender.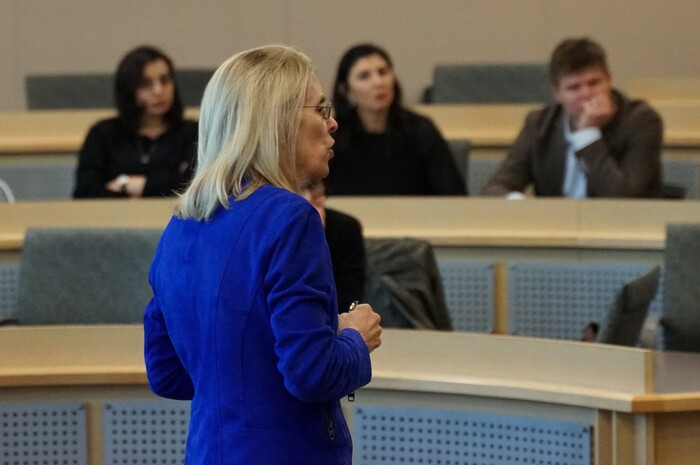 During her visit, Dr. Schiebinger led a workshop exploring how each attendee's research might benefit from considering Gendered Innovations.
Currently however, even reporting the sex or gender of a participant or subject in a study cannot always be relied upon. A graph from her lecture shows scores of data sets without reports of the sex of the subjects, taken from across divergent fields from medicine to biology studies of marine animals.
Throughout the two day visit, a clear image emerged from Dr. Schiebinger's lectures that EDI should be considered from the start of every research project. Inviting diversity and planning for equity leads to better research, broadening perspectives and opening the way for new knowledge that might otherwise be missed.
Dr. Schiebinger's visit to campus was the result of a shared effort between two of the University of Alberta's new Signature Areas, Intersections of Gender and Energy Systems. It was made possible through the generous support of Faculty of ALES, Faculty of Science, Faculty of Arts, Faculty of Engineering, Faculty of Medicine and Dentistry, Kule Institute for Advanced Study, Office of Interdisciplinary Studies, Department of History and Classics, Department of English and Film Studies, and the Department of Sociology. 
If you would like to learn more about Gendered Innovations, click here!
To learn more about Energy Systems Signature Area, click here!
To learn more about Intersections of Gender Signature Area, click here!