« Back to News
Hitting emissions targets will take more than energy efficiency, says researcher
Posted on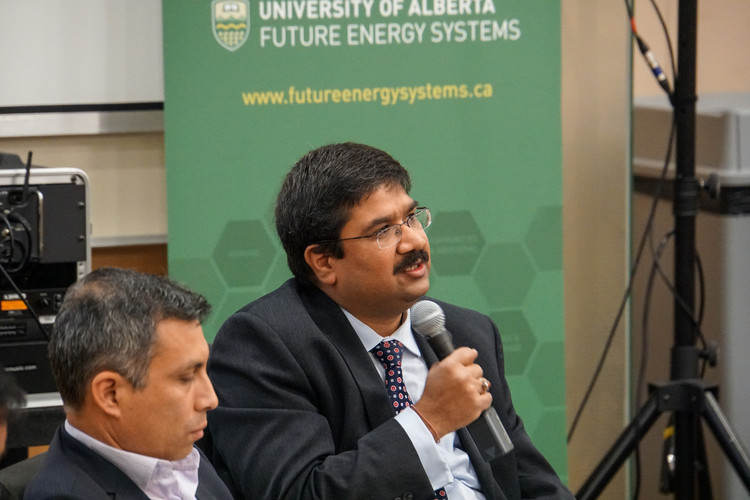 Efficient furnaces, appliances and lighting offer best energy-smart options for consumers.
By Bev Betkowski
It will take more than energy-efficient furnaces, dishwashers and boilers in our homes and factories to make much of a dent in Alberta's greenhouse gas emissions, says a University of Alberta researcher.
Adopting a full-on strategy to outfit homes, factories, stores, offices, public institutions and vehicles like trucks and cars with energy-efficient equipment would only reduce the province's annual greenhouse gas (GHG) emissions of about 270 megatonnes by less than 10 per cent, said mechanical engineering professor Amit Kumar.
"If you think about what Canada is trying to achieve—to reduce greenhouse gas emissions 30 per cent below 2005 levels by 2030—energy efficiency alone won't get us there," he said. A successful strategy also has to include renewable energy and use of carbon capture and storage, he suggested.
"We're still focusing on the first two, but all three options have a role to play in getting to the greenhouse gas mitigation goal."
Kumar and his research team in the Faculty of Engineering have been crunching the numbers for more than seven yearsand have published several scientific papers along the way, analyzing energy cost curves for GHG mitigation for Alberta's residential, commercial, industrial, agricultural and transportation sectors.
"We measured how much energy we have, how to convert it and where it is consumed. We wanted to know which mitigation scenarios offer the best bang for the buck."
They ran more than 250 scenarios across the board, analyzing use of energy-efficient equipment like residential furnaces and industrial boilers and pumps, using a computer-based model to measure long-term energy consumption from 2013 to 2050. Overall, they estimate that GHG emissions in Alberta could be cut by 20 to 25 megatonnes annually.
And though that isn't enough on its own to meet the conditions of the Paris Agreement Canada signed in 2015, pledging the country to lower emission levels by 2030, Kumar said investing in energy efficiency is still a fairly attractive and accessible way for most people to help do their part.
Their research showed that for the residential sector, the most greenhouse gas mitigation at the lowest cost could be found in using energy-smart furnaces, appliances and lighting.
"The cost of doing it makes it low-hanging fruit," Kumar said. "The options are within range of what the average consumer can do."
Kumar suggested one of the key investments homeowners can make is in an energy-efficient furnace. "Space heating consumes about 50 per cent of all the energy consumed in the residential sector." Ovens and LED light bulbs are also energy-saving buys, he added.
Research by Kumar's team also indicates that high-efficiency appliances are slowly gaining ground with buyers, with dishwashers leading the way. But, he said, government could look at encouraging faster market penetration. "They could consider policies that offer options like rebates, buyer incentives, different ways of promotion."
Kumar's research is supported by the Natural Sciences and Engineering Research Council of Canada, Cenovus Energy, Suncor Energy and Alberta Innovates.