« Back to News
Future Energy Systems partners with NAIT, ATCO, and Siemens for Distributed Energy Management Initiative
Posted on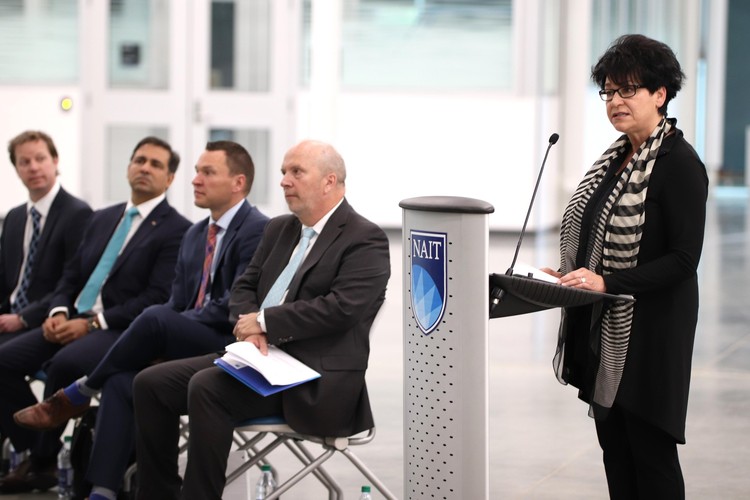 Two Future Energy Systems research teams will utilize cutting-edge NAIT facility
EDMONTON – Future Energy Systems is an important partner in a new NAIT microgrid research facility that has received a $2 million grant from the Government of Alberta. The funding was announced Thursday by Economic Development and Trade Minister Deron Bilous at NAIT's new Productivity and Innovation Centre.
The Distributed Energy Management Initiative (DEMI), a partnership between NAIT, ATCO, Siemens and Future Energy Systems will provide a "plug-and-play" microgrid where energy researchers and companies can test and validate their technologies under realistic field conditions. The facility will help them discover innovative technologies to generate, manage and store energy and reduce or eliminate greenhouse gas emissions.
Two Future Energy Systems investigators will be among the first partners to conduct research in the facility. Dr. Ryan Li and his team will use the microgrid for extended testing of power control systems they develop at their new University of Alberta smartgrid lab, while Dr. Amit Kumar's group will conduct life cycle assessments of the carbon emissions from technologies developed at DEMI.
"In Alberta we're fortunate to have some of the world's best energy researchers," said Future Energy Systems Director Dr. M. Anne Naeth. "Through partnerships like this we're making sure they have access to world-class facilities that will speed innovation and help shape the future of our global energy system."
"Alberta innovators and entrepreneurs are making our province proud – attracting international attention and investment," said Bilous. "When they asked for support to test and commercialize their new products and processes, we worked together with our post-secondary institutions and industry leaders to make that happen. The Distributed Energy Management Initiative will help small businesses grow and create new jobs, at the same time as protecting our environment."
The microgrid lab will be housed in the Productivity and Innovation Centre, NAIT's new, 17,650 square-metre centre providing solutions for industry, including advanced manufacturing labs, acceleration spaces for business and applied research facilities. Once the space is open and research commences, additional information about the new Future Energy Systems projects will be share through this website. 
For updates, subscribe to our newsletter.