« Back to News
Future Energy Systems One: A Plasma Car Story
Posted on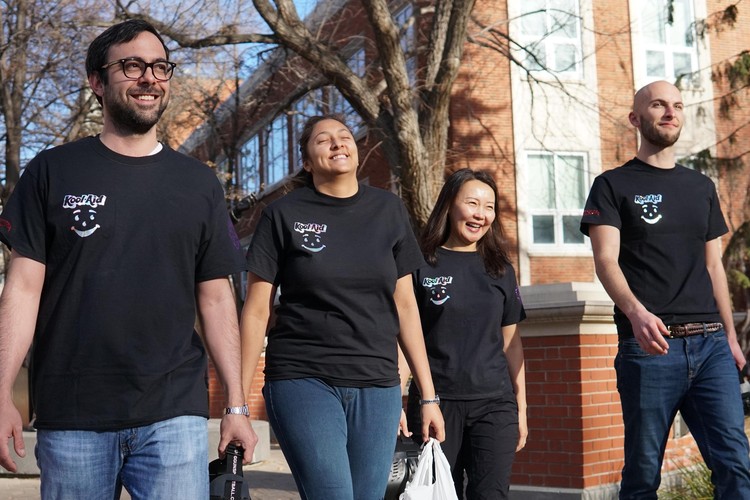 A totally serious account of how the Future Energy Systems administrative team participated in the University of Alberta's United Way Plasma Car Derby
Photos by Kenneth Tam and Alisha Kadam
Words by Kenneth Tam
"Sometimes, you have to chase your destiny. Sometimes, you have to wiggle towards it."
Saleema Khan, Senior Financial Analyst with the Future Energy Systems administrative team lives by those words, so the moment the opportunity came for her to form the program's first-ever plasma car team, she knew it was her time.
"You don't get chances like this very often," she says firmly. Then she stares off into the distance, reflecting on the performance of her team –– FES-1 –– in this year's race.
"At least until next year. Next year is when we get redemption."
This is a story of drama, wiggling, cars, and drama. It all begins with the University of Alberta's commitment to supporting the United Way.
Breaking the cycle of poverty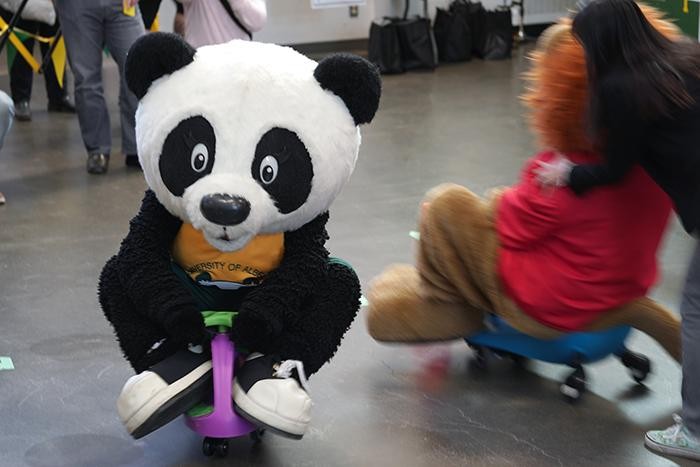 Every year, the University of Alberta launches an ambitious fundraising campaign to help the more than 135,000 people in Alberta's Capital Region who live in poverty. The United Way partners with more than 50 other organizations to support the delivery of more than 100 programs and services to assist these individuals, creating a pathway out of poverty. So far this year, the University of Alberta has raised more than $375,000 towards this end.
The Plasma Car Derby is one of the campaign's signature events. A plasma car is a small plastic vehicle that is driven forward when the driver wiggles. Though designed as a children's toy, an adult driver can push a plasma car to startling speeds.
This year fifteen teams of four took part in the derby, collectively raising almost $18,000. When the invitation was extended to Future Energy Systems to register a team, Saleema stepped forward to organize the effort.
She only had two weeks, but she didn't have to look far to find volunteers.
Building the team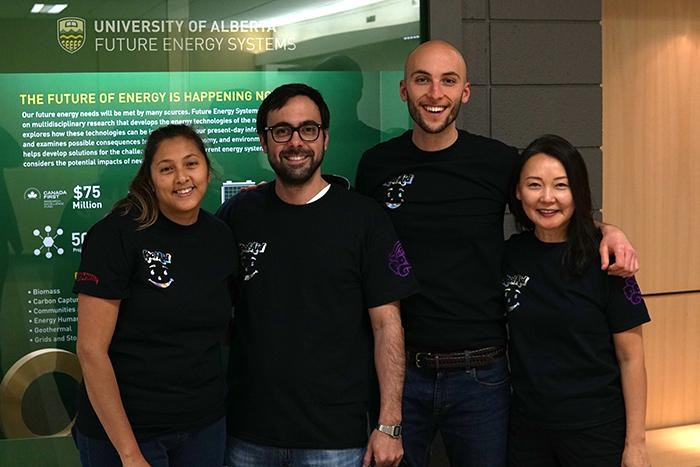 First to sign with the newly-formed team was Zaya Yansanjav, Future Energy Systems' Research Financial Administrator.
"I knew that we would take this very seriously. From the beginning we were committed to making FES-1 a success," she explains.
She turned her attention to searching for more drivers, first recruiting Communications Intern Nathan Cannataro to the squad.
Says Nathan: "They asked me to drive a plasma car. We work for Future Energy Systems so I assumed this was going to be some sort of super-advanced vehicle. Turned out there was more wiggling than plasma."
That left one slot to fill, and after a careful survey of the Future Energy Systems staff, the team signed Intern Samuel "the Stare" Ferraz.
"I still have no idea what they asked me to do," Sam says thoughtfully. "But it was for the United Way so I said yes."
With their elite team assembled, preparation began.
Putting in the time
The Future Energy Systems administrative team is based in the Vice-President (Research) Office –– just down the hall from the President's Office, where plasma cars were kept for practice before the race.
"We went down there a lot," Saleema says as she stares at the final race results again. "At least twice. I went three times, actually. We were so dedicated to this."
Up and down the hallway lined with portraits of past University of Alberta Presidents, the team (minus Nathan, who was writing a midterm that day) spent nearly ten minutes practicing their wiggles and their turns.
"We had to hone our driving skills," Zaya explains. "You cannot expect to be good if you are not willing to work."
Finding the sponsors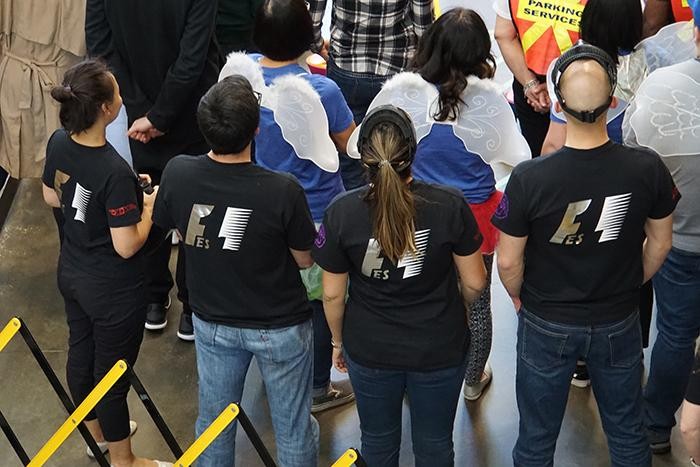 Saleema refused to let the team race for charity without powerful sponsors. While individual supporters ultimately donated $555 to the United Way on behalf of the team, she wanted to make sure their jerseys reflected the breadth of the support that FES-1 had in the racing community.
"It takes a lot of effort to get Hot Wheels, My Little Pony, and our main sponsor Kool-Aid onto your team t-shirts," she says, looking at the sparkling logo on her shirtsleeve.
"You have to find the logo, you have to cut it out, you have to stick it on. And because there are four of us, I had to do that four separate times."
The effort was worth it.
"When we saw the shirts, we knew we were part of something special," Nathan reflects. "This was a team that was built to win."
"What is a 'My Little Pony'?" Sam asks. "Is it a juvenile horse, or just a small one?"
The big day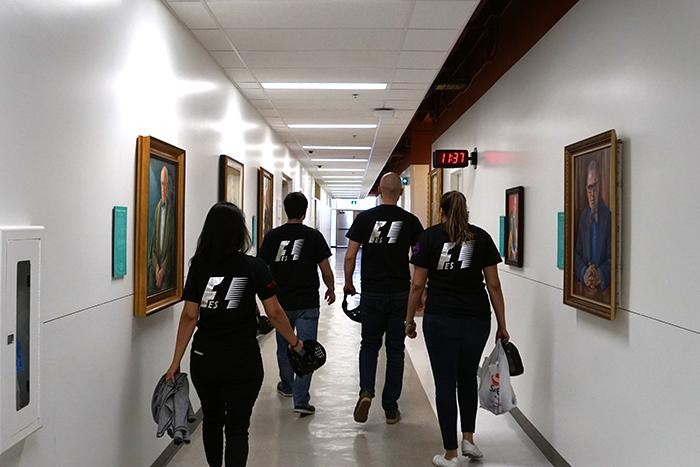 "People don't appreciate how much preparation goes into race day," Saleema explains patiently. "You don't just show up and race."
Instead, the team spent roughly half an hour prior to the start of the event getting ready.
Ahead of their noon start time, the group assembled at the Vice-President (Research) Office at 11:30 to suit up. Once they were outfitted for the race, team photographers pulled them together for the inevitable pre-race photoshoot.
"When you look at the photos we're all smiling, but inside I know we were all scared," Nathan admits. "You can't show fear at times like that. You have to be strong for your team."
Sam disagrees, "I wasn't scared. I was ready."
With the photos done they made a fateful walk down the corridor of Presidents, ready to face their destiny.
"Those were innocent minutes," Saleema shakes her head. "We were so naive."
The final countdown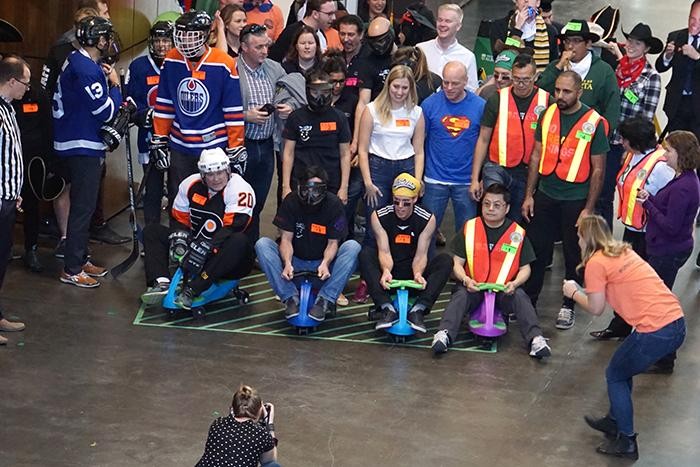 Adrenaline kicked in as soon as the team arrived at the Van Vliet Complex's "Social Street".
"Once we got our car on course, I knew our preparation had paid off," Zaya says. "We were professional. We were ready."
Sam lived up to his nickname –– the Stare –– as he lined up to lead the team into its qualifying heat.
"It was hard to see through the mask, so I had to stare intently," he says modestly.
But as FES-1 prepared for its rendezvous with destiny, fate had other designs.
The qualifier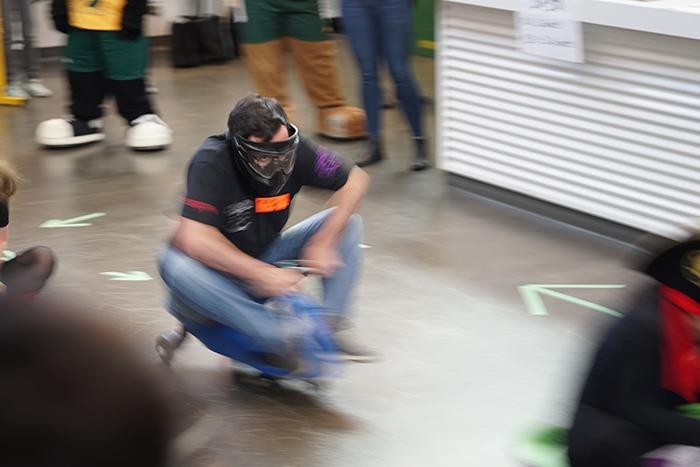 With fifteen teams, the derby was broken into four timed heats. Like many other Olympic-level races, how you placed in your heat wouldn't matter; the four fastest teams would race for the trophy in the final.
Running in the third heat would be FES-1, a team from parking services, a group wearing hockey jerseys, and another team whose affiliation everyone missed.
For FES-1, the race was a disaster.
Others may write in more detail about the ensuing drama –– the questionable lack of intervention from the referees when a driver swung in front of Saleema on her anchor leg, forcing her to lose momentum.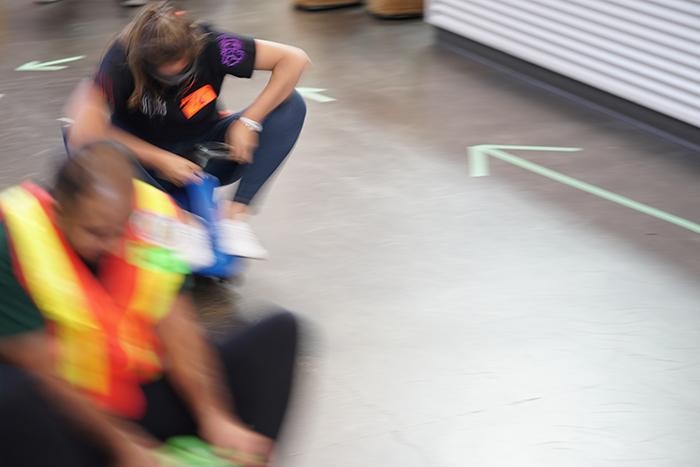 "I had to wiggle a lot to get back up to speed. It cost us time," she shakes her head. "It was totally that guy's fault, and the fault of the officials who didn't call it, and the fault of the car. But I won't make excuses."
When Saleema rolled across the line in third place in their heat, the team knew their day was done.
"We were in the fastest heat of the day, and we weren't fast enough," Nathan says.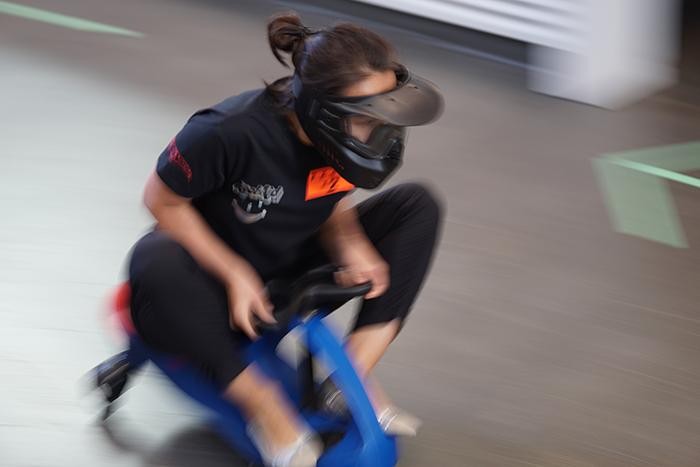 Except, they were fast enough.
The tie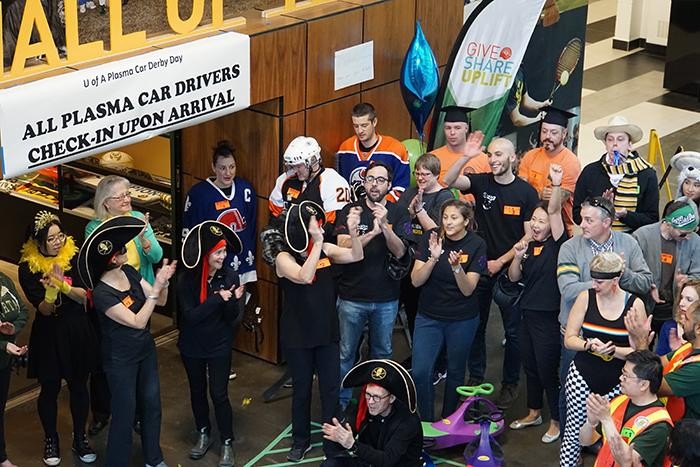 Standing to the side for the fourth heat –– masking their profound disappointment by laughing and acting as if they were actually enjoying themselves –– the members of FES-1 assumed they would have no place in the final.
Then the announcement came: a tie for fourth place meant that five teams would race for the trophy.
One of those teams was FES-1.
"Like two people from the crowd cheered for us," Nathan grins in triumph. "It was amazing."
"But we had to refocus immediately," Zaya says. "All of our hard work had led to this chance to race for the win, and we could not waste it."
They had learned the quirks of their car, so now they strategized about how to better their qualifying performance. Unfortunately, the situation was going to be more complicated this time.
"There would be five cars on course, instead of four," Sam explains. "That's a lot of wiggling in a confined area."
But they had their chance –– they wouldn't squander it.
Or would they?
The final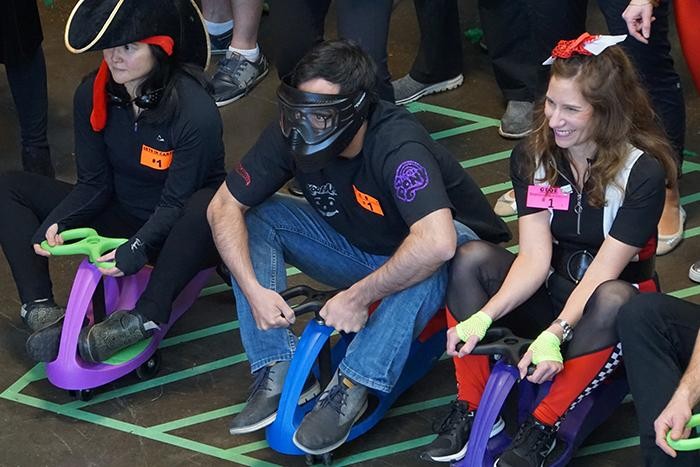 From the start, things didn't go FES-1's way.
Sam "the Stare" Farraz was fast off the line, but three other teams were able to win the positioning fight to get in front of him. As he accelerated into the turn, he was forced to stare at three backs.
Zaya took up the chase but had a mechanical issue –– the wheel turned 180 degrees in her hand and needed to be re-spun on-course.
Nathan denies that he elbowed anyone on his lap, explaining that his long arms created the impression that he was throwing elbows when he was just, in fact, wiggling.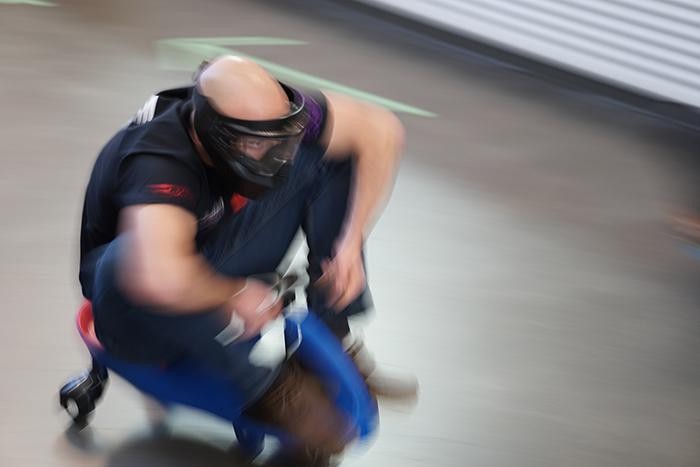 But the real problem came when Saleema launched the final lap. As anchor, she knew she could sweep up the three teams in front of her, so in a risky move she ditched her face mask and focused on her fundamentals.
"You have to put your head down and just wiggle," she explains. "And I was doing that. But then it happened."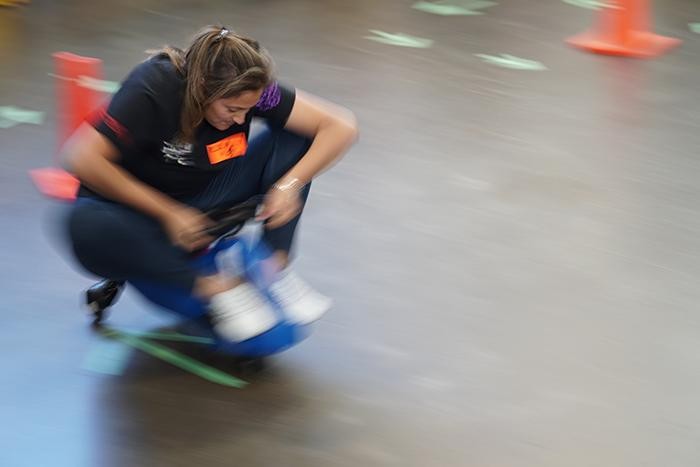 The three teams that had snuck away from FES-1 were coming towards the line when she took off, and the collision was literally unavoidable.
"We ran head-first into each other. It was brutal," Saleema says. "I wasn't even wearing my mask, but I was lucky. I won't make that mistake again."
The wreck sealed it: FES-1 crossed the line behind three other teams.
Fourth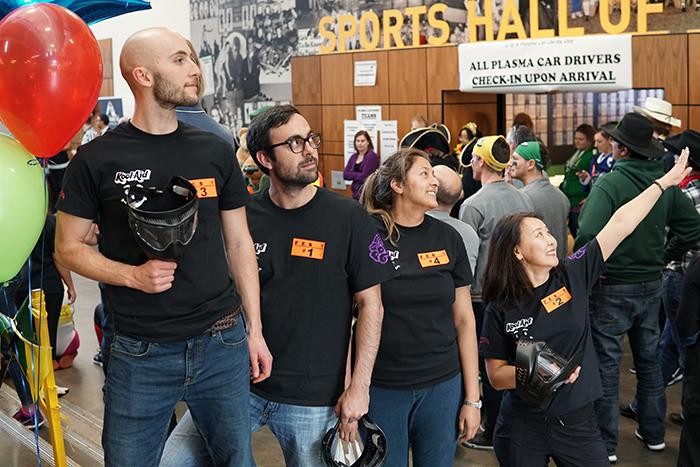 "The United Way are the real winners here," Saleema says philosophically as she stares into the distance. "We do this for them."
But deep down, she knows she does this for other reasons too.
One is to represent Future Energy Systems, the single-largest research initiative in the history of the University of Alberta. With $75 million from the Government of Canada's Canada First Research Excellence fund, the program has brought together 126 researchers and almost 400 graduate students and post-doctoral fellows from the Faculties of ALES, Arts, Engineering, Law, Native Studies, Science, Campus Saint-Jean and the School of Business to work on 78 projects that explore numerous aspects of humanity's transition to low-carbon energy.
"We do this for them," Saleema asserts. "I don't think many of them knew we were doing it, but when they see this on our website they'll know."
And just as importantly, Saleema was doing this for her team –– for FES-1.
"We worked so hard," she says. "Next year, we're going to do better than fourth. We've earned that."
Zaya agrees: "Training for next year starts now."
"Well, tomorrow," Nathan says. "Actually, I have another midterm next week. After that."
"I hate to lose," Sam sums up for them all. "We will not let down the small horse again."
FES-1 wishes to thank all its actual sponsors:
Christine Archibald
Theresa Batbold
Colin Christiansen
Crystal Dodge
Miles Dyck
Kevin Khan
Agnes Pieracci
Mariana Rodriguez
Laurie Slatter
Jacqui Tam
Brian Turcotte
Altanzul Yansanjav
The Future Energy Systems team
If you want to be involved in the 2019 Future Energy Systems plasma car team, contact Saleema. And start training.
The United Way campaign continues. For more information or to donate, click here.
To subscribe for future stories, click here.