« Back to News
First Indigenous woman to graduate with PhD in engineering from U of A finds true calling
Posted on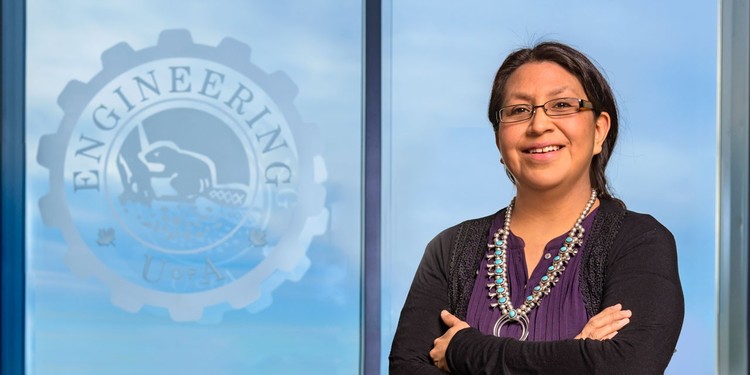 Oilsands remediation expert Chelsea Benally fulfils lifelong dream to help the environment after being sidetracked.
By GEOFF McMASTER
Chelsea Benally knew she'd landed a good, secure job when she was hired by Sandia National Laboratories in Albuquerque, N.M.
The pay was decent, and for a young chemical engineer, the national security technology company offered plenty of opportunity to grow, even sending her back to the University of Arizona to complete her master's degree.
The problem was, as a contractor for the U.S. Department of Energy, Sandia produces nuclear weapons, and that never sat well with Benally. It wasn't in the master plan she'd had since junior high school, and it was certainly a far cry from what she's doing now—researching how to successfully treat oilsands tailings pond water as the first Indigenous woman to graduate with a PhD from the University of Alberta's Faculty of Engineering.
"People would tell me I had to be sure about working (at Sandia) because it tends to be a lifelong thing," said Benally. "They said you learn about certain things and can't just walk away easily. You have to understand what they're doing at the lab and make sure you're OK with it."
Finding purpose
As a teenager growing up in Flagstaff, Ariz., Benally said, it was a Grade 7 class in environmental technology that inspired her to pursue science in the first place. She learned for the first time about environmental decline, and it made her want to do something about it.
Throughout high school she devoted herself to science, even spending summers at science and math camps. It soon dawned on her that there were few women or Native Americans in the science, technology, engineering and mathematics (STEM) fields, and that only fired up her competitive streak.
She also learned about the iconic scientist Fred Begay, a Navajo nuclear physicist who worked for more than 30 years at Los Alamos National Laboratory developing alternative energy sources.
All of that drove her to take chemical and environmental engineering at the University of Arizona. She did an internship with Sandia.
'Deviation'
It was around this time she met a student from Sucker Creek First Nation in Alberta, with whom she had a son. The new arrival meant a full-time job with Sandia was too attractive to pass up.
"It was a good opportunity, so I took it, but it was a big deviation from what I wanted to do," she said. "Scientists had to enter cages and work on designated computers, and if you took notes you had to leave them behind in a vault."
She eventually left Sandia, and it took a while before she found her true calling. At first, she worked in medical insurance on her home reservation, feeling it was important to give back, "but I thought I could do so much more," she said.
Aspirations revived
While raising her young son, she learned about the U of A and its engineering faculty during repeated trips to visit her partner's family. The more she learned about its work on oilsands remediation, the more it struck her as a way to revive aspirations she'd had as a child.
"I knew I liked it here, and I knew about some of the issues involving oilsands tailings ponds and First Nation communities," she said. "I also knew from my son's father that there weren't a lot of Indigenous people who were engineers, not as many as there should be."
So Benally applied to do her doctorate at the U of A, was accepted, and began working with environmental engineering researcher Mohamed Gamal El-Din on the treatment of tailings water, fabricating and testing membranes and absorption materials that filter the water.
"With her work on oilsands, she is able to easily connect with the Indigenous communities (who live with some of the fallout) because of her shared background in their traditions," said Gamal El-Din, NSERC Senior Industrial Research Chair in Oil Sands Tailings Water Treatment.
"She's also been proactive in helping mentor undergraduate Indigenous students here, tutoring them when needed … she's a good citizen," said Gamal El-Din.
Benally's research on oilsands process water reclamation is crucially important not only for Alberta and Canada, he said, but also for oil and gas development projects elsewhere that have the same problems reclaiming process water.
"The expertise she gained here would be very applicable in the U.S. should she ever decide to go back," said Gamal El-Din.
For Benally, her current research is far more aligned with her values than her stint at Sandia, where she admits she got "sidetracked."
"I feel more motivated to work here," she said. "Eventually I had to figure out a way to get back to what I wanted to do."
She is now doing a post-doctoral fellowship analyzing the mud under tailings pond water, and wants to continue working in water and remediation while helping to increase First Nations participation in engineering.
She has, for example, begun working with a network of half a dozen professors to create pathways for Indigenous youth to pursue environment-related fields.
When asked what it feels like to graduate as the first Indigenous woman with a PhD in engineering from the U of A, she answers that, at least for the moment, it's hard to see past the exhaustion.
"Mostly you just feel tired," she said, adding, "I wish I wasn't the first Indigenous female to graduate with a PhD in engineering from the U of A. I wish there were many before, and I hope there are going to be many, many after."
For more HQP profile stories, click here.
To learn more about Chelsea's project Resilient Reclaimed Land and Water Systems, click here.
To subscribe for future stories, click here.