« Back to News
Behind the Scenes: iDoc and Future Energy Systems
Posted on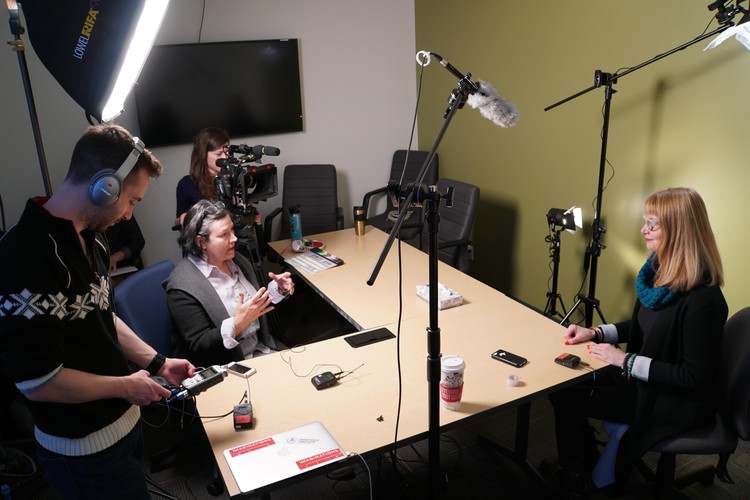 Energy Humanities project will capture the perspectives of Future Energy Systems participants
How does a research program work? What are its real priorities? Can it make a difference? What constitutes 'a difference'? And why does it even matter?
Future Energy Systems investigators and students are researching questions crucial to humanity's energy future, and while a great deal of technical work is being undertaken, the program is also dedicating resources to directly ask itself tough questions.
Campus Saint-Jean Associate Professor Dr. Sheena Wilson leads a Future Energy Systems project that will produce documentary videos that reflect on the program's past, present and future. Working with post-doctoral fellow (and veteran CBC producer) Mary Elizabeth Luka, she is pointing a lens at members of the Future Energy Systems administrative leadership team, researchers, and outside observers. Through these interviews she will gather diverse perspectives on humanity's energy future –– as well as differing points of view about the role Future Energy Systems plays in getting there.
"When you're working on a program this large, with so many societal implications, it's important to ask the people involved what they think they're a part of, what they hope to achieve, and why," Wilson explains. "Their answers can have implications today and for the shape society takes in the future."
Luka agrees: "People are constantly reconstructing the stories behind today's technologies from memory, meeting minutes, diaries and news clips. We have the chance to let our people explain things in their own words."
The project –– dubbed iDoc –– is part of the Energy Humanities theme within the Future Energy Systems research program, so Wilson and her co-investigators will be going on camera to explain their views as well.
"Interviewing yourself for a project is pretty meta," Wilson laughs. "But this is a unique opportunity to integrate societal questions into the conversation of our energy futures right from the beginning of our research."
Co-Investigator Sourayan Mookerjea, from the University of Alberta's Department of Sociology, agrees: "We don't just want to tell the story of new technologies, we want to gain a better understanding of how social needs might be met by energy transition." Wilson adds: "To do that, we need to better understand the people who bring new technologies into our society, and why they do it – and what futures they are imagining."
Wilson and her team hope the project's videos will make Future Energy Systems' work more accessible to audiences who don't normally follow advanced technical research, but whose lives could be significantly affected by changes to the energy system. And those changes could outlive the program's projects.
"One thing the [Future Energy Systems admin] team keeps bringing up is the importance of training students through this program," she says. "And they're right: hundreds of young people who come out of Future Energy Systems could spend long careers working on energy questions. It's important that we make sure that they understand that energy systems are not merely technological, but also societal. We need to prepare them for complicated intersectional conversations now so that we achieve energy justice as well as energy transition."
The iDoc project began filming this week, and will continue recording its first round of interviews next month and during the first quarter of 2018. Interview content will be shared through a variety of mediums, including Future Energy Systems events, and the upcoming IPCC meetings in March and PetroCultures 2018 in Glasgow, as well as online.