« Back to News
A new phase in the China-Canada energy research partnership
Posted on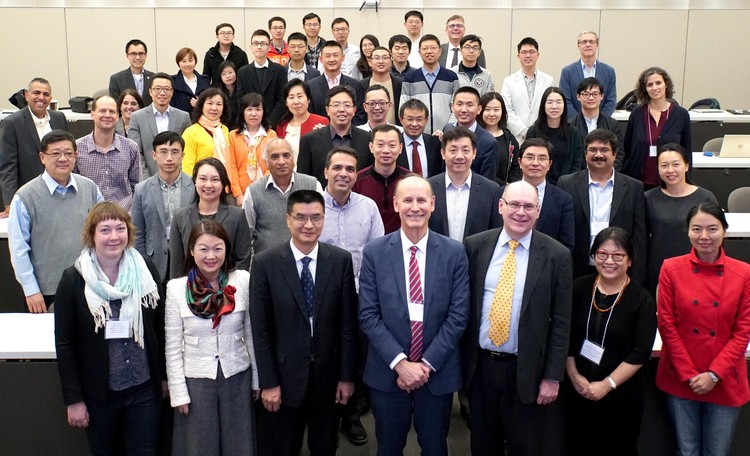 Future Energy System researchers work with visiting Tsinghua University delegation 
Global energy challenges are bigger than any single nation, so last week investigators from Future Energy Systems worked with counterparts from China to strengthen the long-standing partnership between two of the world's leading energy research institutions. 
Led by Graduate School Dean Qiang Yao, a delegation of professors and students from Tsinghua University –– China's leading technical research institution –– visited Edmonton to help launch a new phase in their two-decade collaboration with the University of Alberta. This visit followed the signing of an agreement last April that established the Joint Research Centre for Future Energy and Environment, a China-based institute which brings the two universities together to address the energy challenges relevant to both countries.
As a first step in the development of the Joint Centre's program, researchers made presentations and held workshops to identify potential research questions. Participating Future Energy Systems Principal Investigators included Rick Chalaturnyk (CCUS), Mohamed Gamal El-Din (Land and Water), Amit Kumar (System Wide), Jason Olfert (CCUS), Ryan Li (Grids and Storage; Wind), and Jillian Buriak (Solar). 
With initial meetings complete and opportunities for collaboration identified, researchers will spend the coming months deepening their discussions and developing proposals to be submitted during the Joint Centre's first call for proposals in 2018. More information about projects connecting Future Energy Systems and Tsinghua will be shared on this website as they are launched. 
The University of Alberta and Tsinghua University have enjoyed a long and successful research partnership, and by continuing to work together these two world-class institutions will help address energy challenges relevant around the world. 
Gallery - Tsinghua Delegation (October 5-6, 2017)